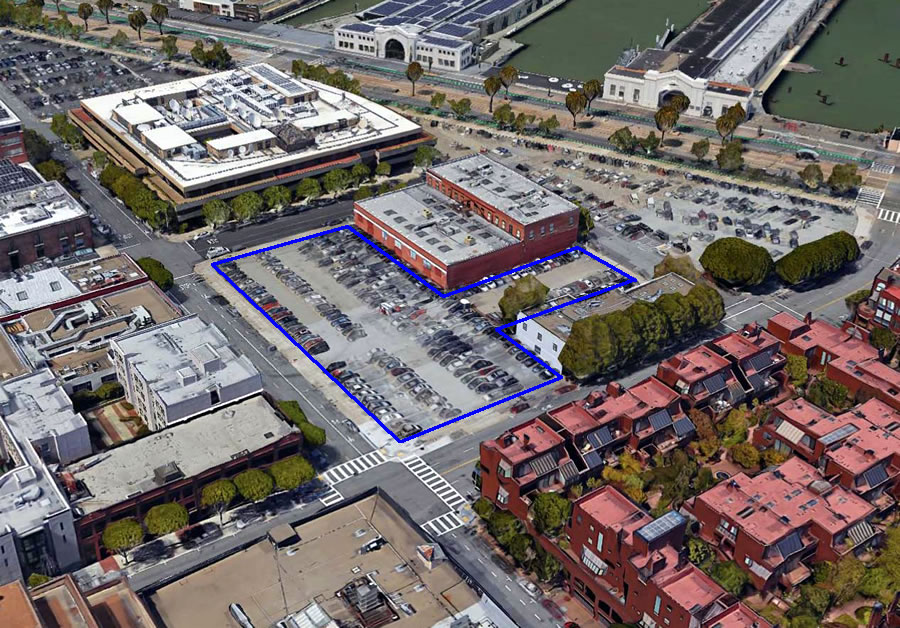 While the proposed development of 178 affordable apartments to rise up to six stories in height across the half-block-plus parking lot parcel at 88 Broadway, a development which the Telegraph Hill Dwellers (THD) have been seeking to have "right-sized," has yet to be approved, a formal appeal of the Planning Department's determination that the project would not have a significant effect on the environment has been filed.
From the appellant who lives seven tenths of a mile away from the Northern Waterfront development on Nobles Alley and is seeking a waiver of the required $597.00 fee for the appeal which was received by the city on November 27, the deadline for appealing the aforementioned determination:
"I believe that the loss of 180 Parking spaces and cumulative impact of the loss of parking and its effect on Traffic due to the future development of Seawall Lot 323 and 324 for the Teatro Zinzanni and Hotel Development and the Museum use at 940 Battery St was not adequately addressed and will result in a significant impact that cannot be mitigated and therefore would require a full Environmental Impact Report.

In the Department's own analysis the project would generate 360 net new person-trips and that analysis completely ignores cumulative impacts of nearby developments which is required under [the California Environmental Quality Act].

The department also uses the elimination of parking to justify its traffic analysis. In so doing, the department ignores the impact on parking availability as a result of the project. This impact will generate more traffic as parking becomes more scarce, and this will result in a significant increase in Vehicle Miles Traveled (VMT)."
Identified by the Port of San Francisco as "the greatest affordable housing development opportunity among the Port's seawall lots in the northeastern waterfront," but having faced neighborhood pushback over just how affordable the development should be, the development of 88 Broadway as proposed would yield 125 apartments for families earning 50%-120% of the Area Median Income (AMI) and 53 units for seniors earning 40%-70% of the AMI, along with 11,400 square feet of retail/commercial space (including a 55-slot mixed-income childcare center to be operated by the YMCA of San Francisco).
And if the City's environmental determination for the project as proposed was to be overturned, and a full Environmental Impact Report (EIR) was required, it could add a year (or two) to the development's timeline, even with the streamlined approval process for affordable housing projects in place.