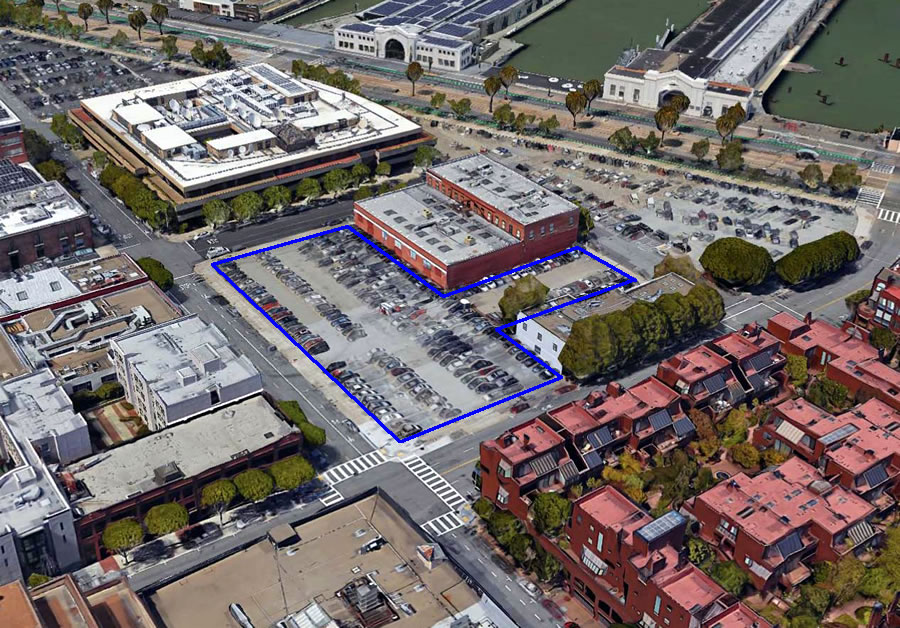 With the Mayor's Office of Housing and Community Development having formally determined that the proposed development of 178 affordable apartments to rise up to six stories in height across the half-block-plus parking lot parcel at 88 Broadway would not have a significant effect on the environment, the development team is now planning to break ground this August.
And if the ground is broken in August, the development, which includes 53 units of senior housing in a building to rise up to six stories in height on the eastern spur of the site fronting (735) Davis Street, should be ready for occupancy in March 2020 with the construction workers "expected to park on the street or in nearby garages, or to use transit" as the entire site will be under construction at the same time.
That being said, an appeal of the City's environmental determination for the project has been filed by a distant neighbor in Telegraph Hill, as we first reported last month. And if the aforementioned determination was to be overturned, and a full Environmental Impact Report (EIR) was required, it could add a year (or two) to the development's timeline, even with the streamlined approval process for affordable housing projects now in place.