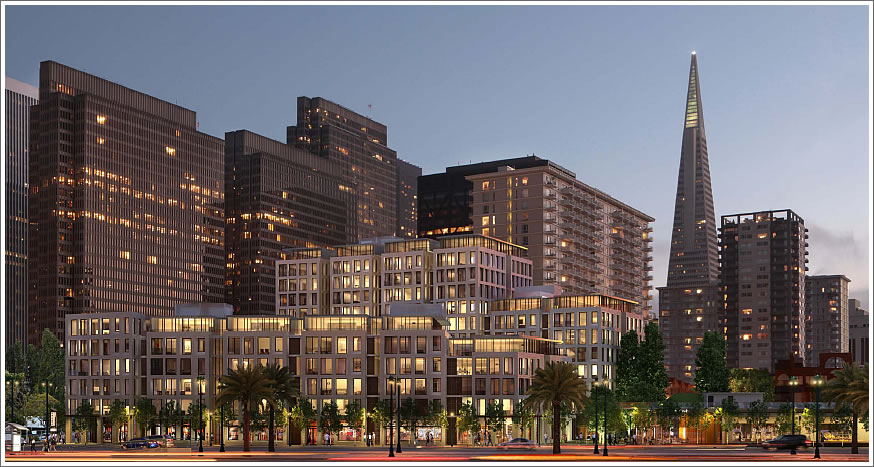 Despite having been approved by San Francisco's Planning Commission and Board of Supervisors in 2012, the planned development of 134 condos at 8 Washington Street was blocked by voters in 2013.  And last week, a judge delivered another blow.
As approved, the 8 Washington project included an increase in the height limit for the rear of the parcel, from 8-stories to 12-stories on one corner, in exchange for lower heights along the Embarcadero, a trade-off which Planning Department, with input from the community, had requested.  And it was specifically this increase in height which ballot Measure C then blocked.
The 8 Washington parcel, however, remains zoned for building up to 8-stories in height.  And as we first reported last year, the development team led by Pacific Waterfront Partners has been planning to re-submit code compliant plans for an 8-story development on the site.  But as a plugged-in reader succinctly reported when Measure C passed:
It's no done deal that the developer can just build an 84′ project [on the site]. The project was entitled as designed. It would have to go thru years of redesign, a new [Environmental Impact Report], [and] hearings at every commission that previously approved the prior plan.

The project was initially designed as an 84′ project. After 17 months of "community planning" workshops, the community and the Planning Department convinced the developer to step the height up in the back and down in the front. The same people who put [Measure] C on the ballot opposed the 84′ project and would probably put that on the ballot, this time saying it should be 40′.

Whether the developer or their financial partners (CalSTRS) are up for [another battle] remains to be seen. And what other developer would walk into this now? We may have another 10 or 15 years of parking lot and fenced club.
Seeking to ensure that Pacific Waterfront Partners would, in fact, be waylaid and effectively have to start from scratch, the aforementioned people behind Measure C preemptively filed suit to overturn all previous approvals and groundwork for the development.
And on Friday, Superior Court Judge James Robertson ruled that the project's previously approved Environmental Impact Report (EIR) relied on old and incomplete data with respect to traffic and parking and ordered that all past approvals and certified reports for the project be set aside.