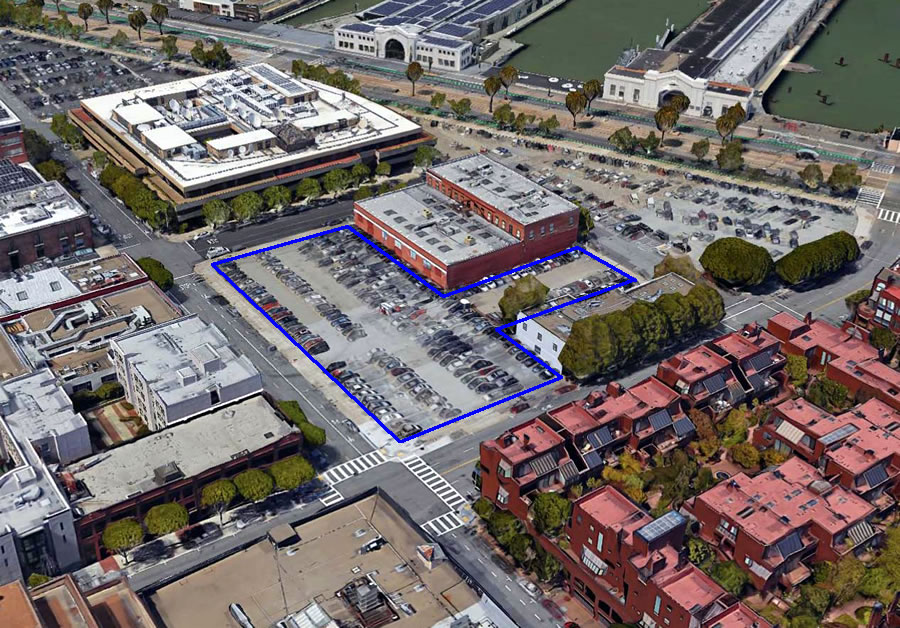 With the designs for the proposed development of 184 affordable apartments to rise up to six stories in height across the half-block-plus parking lot parcel at 88 Broadway having been refined and newly rendered, the Telegraph Hill Dwellers (THD) are seeking to have the development "right-sized."
And to be clear, despite the current state of the market and affordable housing crunch, that's not a call for more density and height.
From the Dwellers in a recent letter to Planning:
THD strongly supports affordable housing for all those in need, including seniors and others unable to find affordable housing to remain in the City. We always have, and we always will.

Whoever lives in the new 88 Broadway, we will welcome them as neighbors.

Our primary concern is with the size, mass, and scale of the proposed buildings. The 88 Broadway project, together with the adjacent proposed Teatro ZinZanni project, will combine to transform the high-profile Broadway gateway to North Beach and Chinatown. Because of the sensitivity of their locations at that gateway and within the Northeast Waterfront Historic District, the success of both projects' design and functioning is of high importance to us all.
And noting that the tallest of the proposed 88 Broadway buildings "would be 10 feet taller than the tallest adjacent building and more than twice as tall as the lowest building," the Dwellers are advocating a "right-sizing" of the proposed 88 Broadway buildings, "to better respect adjacent urban design, ones more compatible with the size and scale of existing historic and other nearby buildings and the nature and character of the Northeast Waterfront Historic District."
Identified by the Port of San Francisco as "the greatest affordable housing development opportunity among the Port's seawall lots in the northeastern waterfront," but having faced neighborhood pushback over just how affordable the development should be, the development as proposed would yield 130 apartments for families earning 50%-120% of the Area Median Income (AMI) and 54 units for seniors earning 40%-70% of the AMI, along with 11,400 square feet of retail/commercial space, including a 55-slot mixed-income childcare center to be operated by the YMCA of San Francisco.
San Francisco's Architectural Review Committee is slated to provide their thoughts next week.