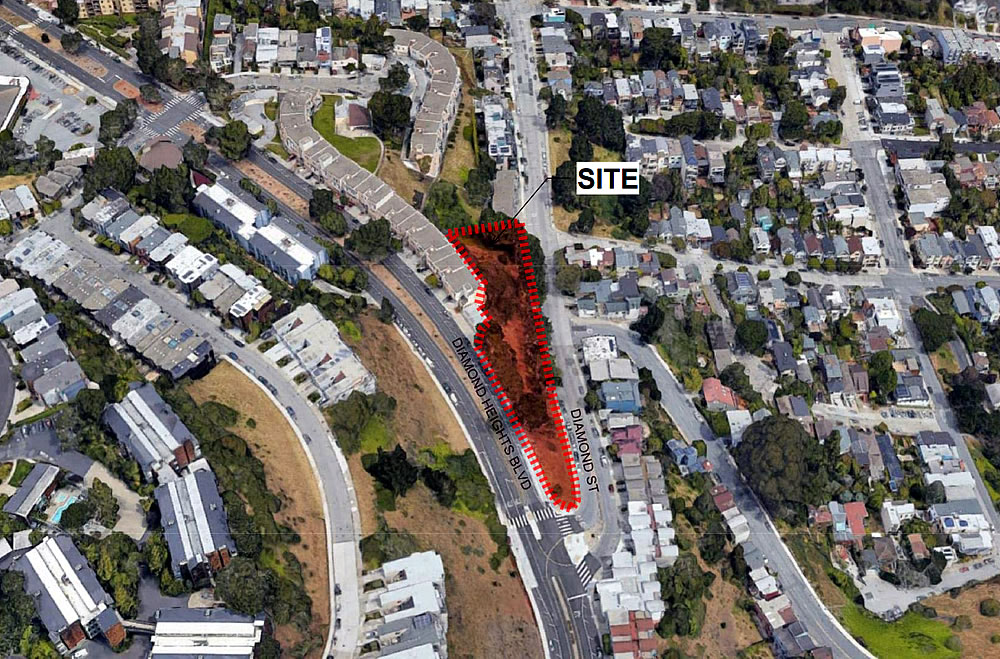 As we first revealed earlier this year, plans for a 24-unit development to rise up to 40 feet in height along Diamond Street, on the hillside overlooking Noe Valley, between the intersection of Diamond Heights Boulevard and 29th Street, were in the works but San Francisco's Planning Department was pushing for more density, estimating that "roughly 43 units could be reasonably provided on the site under the base zoning," highlighting, at least briefly, that the project as proposed was one (1) unit short of the 25-unit threshold which would require a higher percentage of inclusionary housing to be built.
With Planning having requested that the team explore "all available options that [would] maximize residential development on the site," and "strongly encouraging" the team to increase the density of the proposed project prior to submitting a formal application to proceed, a comparative massing for a 43-unit development was drafted by SCB and rendered for effect.
And with the massing in hand, the Emerald Fund has now submitted its formal application to proceed with a 24-unit development on the site, with 20 three-bedroom, roughly 1,950-square-foot, townhomes bookended by 4 four-bedroom single-family homes averaging closer to 3,400 square feet apiece and 28 off-street parking spaces, as originally proposed and newly rendered below.
We'll keep you posted and plugged-in.