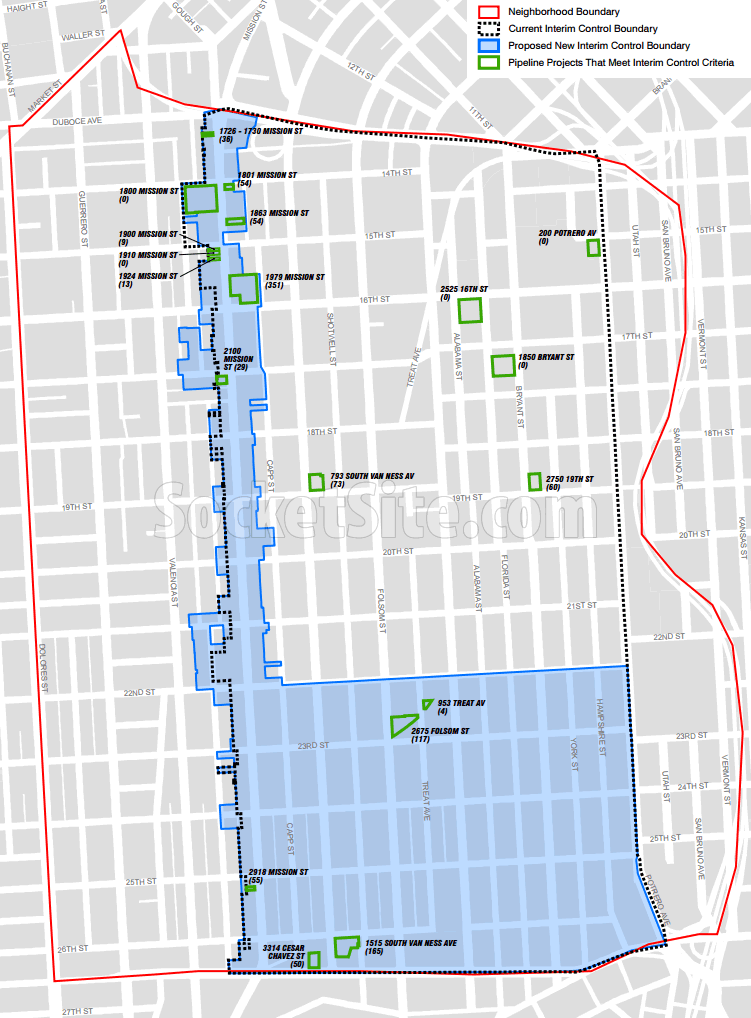 The 'Interim Controls' to limit new market-rate housing, office and retail developments in the Mission District, which were adopted in January of last year and are scheduled to expire this April, are slated to be extended for another nine months, but with a few modifications.
Intended to provide time for the City to finalize "a cohesive strategy to provide more affordable housing and economic stability" and complete "an analysis of affordable housing needs, including potential sites for housing production in the Mission," the controls require special Planning Commission authorization (either Conditional Use or Large Project) for developments that would result in the loss of one or more rent-controlled units or includes over 25 residential units or 25,000 square feet of non-residential space, along with a number of other nuances and requirements.
Residential projects that include at least 33 percent below market rate units and PDR developments are exempt from the controls, as are projects outside the current interim control boundaries as mapped above.
And with the proposed Mission Action Plan 2020 (MAP2020), which represents the City's strategy for the neighborhood, slated to be endorsed by San Francisco's Planning Commission this week, after which it will be up to San Francisco's Board of Supervisors to adopt, the nine month extension of the interim controls is intended to bridge the gap until MAP2020 is in place.
That being said, the boundary of the area to which the interim controls would apply is to be reduced to the Calle 24 Special Use District and both sides of Mission Street from Duboce/13th to Cesar Chavez, within which there are at least 14 pipeline projects for which the controls would apply. And the pipeline projects at 793 South Van Ness Avenue and 2750 19th Street would no longer be within the boundaries of the controlled zone.