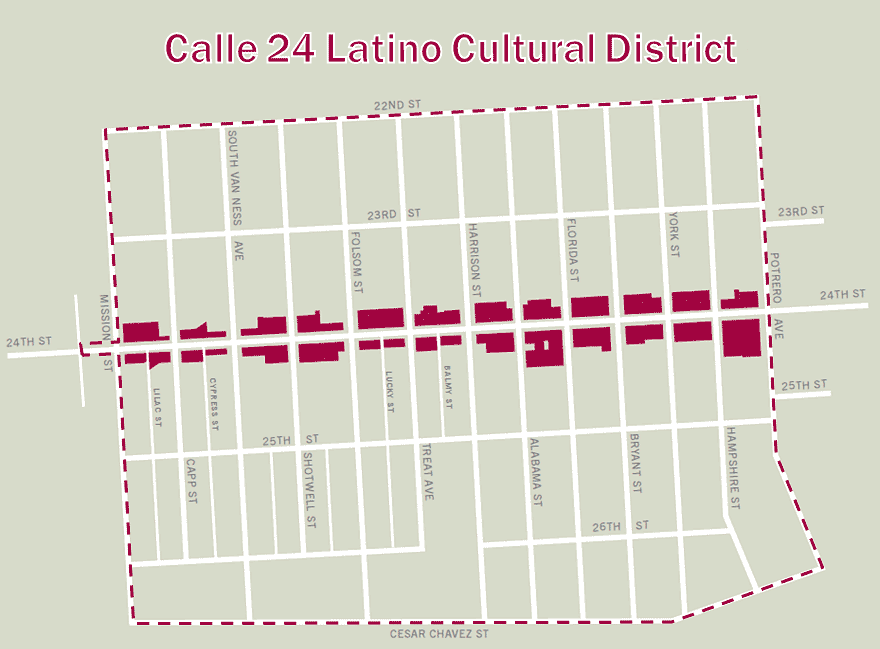 Established in 2014 in an attempt to stem the displacement of Latino oriented businesses and residents from the area, the new rules to govern the Calle 24 Latino Cultural District – which is centered around the 24th Street commercial corridor from Potrero Avenue to Bartlett Street, and bounded by 22nd Street and Cesar Chavez in San Francisco's Mission District – will be presented to San Francisco's Planning Commission on Thursday, February 9.
As sponsored by Mayor Ed Lee and Supervisor Ronen, the proposed amendment to San Francisco's Planning Code would create the Calle 24 Special Use District and strictly limit the number of new restaurants and bars allowed to open within in the District, as well as limiting the expansion of existing eating and drinking establishments; limit the merger of existing ground floor commercial spaces; and require special approval for any new business that wanted to open in a location which was previously occupied by a Legacy Business and has been vacant for less than three years.
In short, the proposed amendments would establish regulations to encourage "the retention of long-standing social and cultural institutions as well as other culturally significant businesses within the Calle 24 Special Use District" and encourage new uses "that are compatible with the existing, distinctive character of 24th Street."
The rules to govern the Calle 24 Special Use District would be above and beyond those which are proposed under the pending Mission Action Plan.