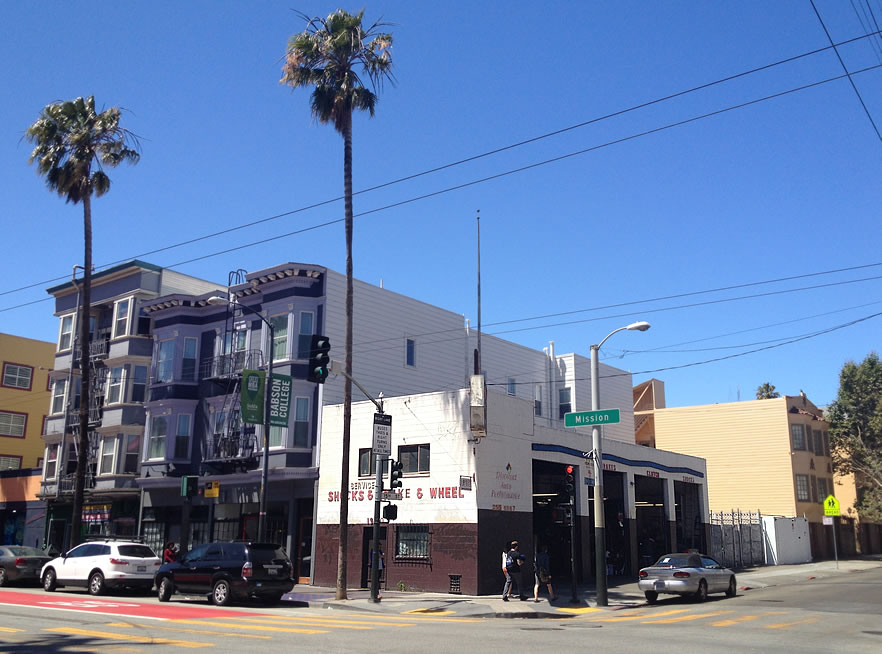 While the Mission Economic Development Agency (MEDA) has not withdrawn their requested Discretionary Review (DR) and formal opposition to the redevelopment of the Mission District auto shop site at 1900 Mission Street into a modern seven-story building with twelve units of housing, a project which has been in the works since 2013, as we first reported at the time, the City's official record for the DR has been amended.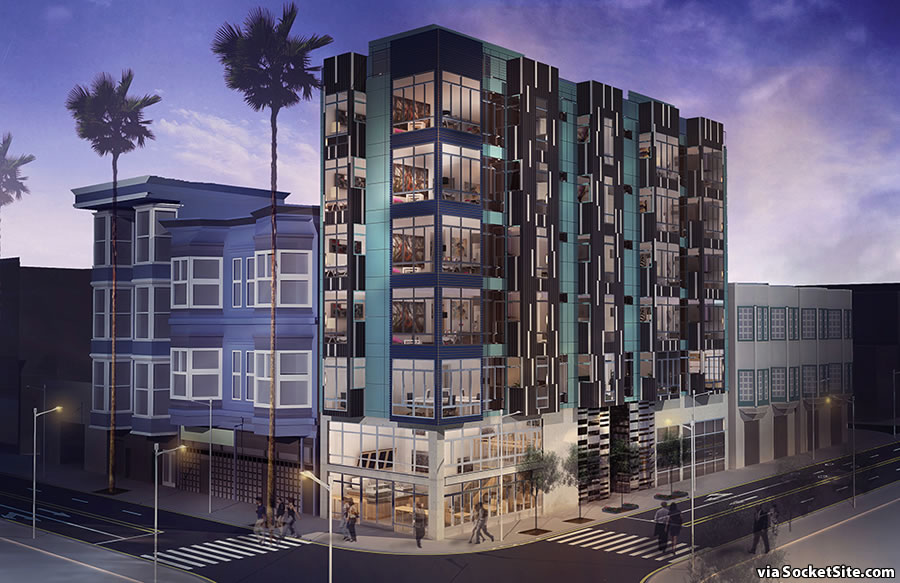 Once again, in an effort to addresses MEDA's stated concerns, that "this luxurious project comprised of large, high-end units would be occupied by wealthy residents that will negatively impact the character of this working-class neighborhood and directly and indirectly contribute to displacement impacts that threaten the community's cultural and economic diversity," the following revisions to the project were made by the development team:
The top floor was split into two units instead of having a luxury penthouse unit.
The proposed office space component was removed in order to add three more residential units.
A floor with two units was split into three smaller units.
A below market rate unit, which wasn't originally required, was added on-site.
A Letter of Intent for the ground floor commercial space was signed with Jason Nazzal, whose family has owned retail businesses in the Mission for 30 years that hires at-risk youth in the Mission and intends to create up to fourteen new jobs for local employment (which is a net addition of thirteen jobs over the existing auto shop).
In response, a representative of MEDA filed the paperwork for the DR which is seeking to have the redevelopment of 1900 Mission, for which the building permits have been pending, blocked.
According to the Planning Department's original case file, "the DR Requestor stated [that MEDA is] universally opposed to any new construction along Mission Street, regardless of the nature of the project." That line has since been stricken, however. And according to MEDA, the perceived universal opposition was actually "the developer's "impression" of MEDA" and doesn't represent their position.
At the same time, MEDA's formal opposition to the redevelopment of the 1900 Mission Street site remains in place, with the stated position that maintaining the existing auto shop, versus building market-rate housing on the site, is better for the neighborhood.
The 1900 Mission Street site is two parcels away from the proposed redevelopment of the former N&S Auto Body Shop at 1924 Mission Street into 11 apartments over a ground floor retail space, a project which is being opposed for looking too upscale.