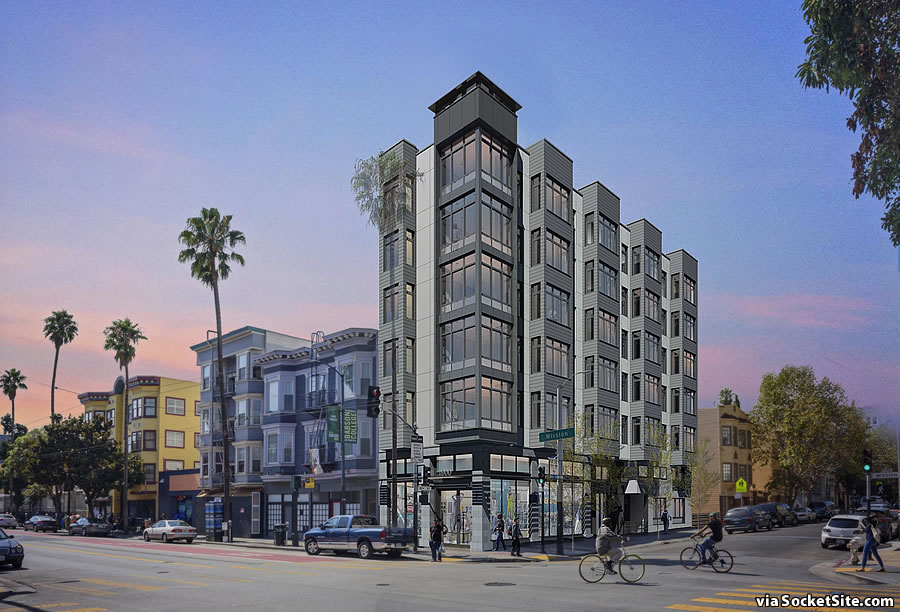 While opposed by the Mission Economic Development Agency (MEDA), which raised concerns that the "luxurious project comprised of large, high-end units would be occupied by wealthy residents that will negatively impact the character of this working-class neighborhood and directly and indirectly contribute to displacement impacts that threaten the community's cultural and economic diversity," the plans for a seven-story building with nine residential units to rise upon the corner auto shop site at 1900 Mission Street were approved by San Francisco's Planning Commission last month.
In an attempt to address a number of MEDA's stated concerns and curry favor with the Commission prior to its vote, the project sponsors split the development's top floor into two units "instead of having a luxury penthouse unit," downplayed the high-end aspect of the plans by reducing the average size of the units, and touted a signed letter of Intent to lease the ground floor commercial space to Jason Nazzal, "whose family has owned retail businesses in the Mission for 30 years that hires at-risk youth in the Mission and intends to create up to fourteen new jobs for local employment."
And with the entitlements now secured, the 1900 Mission Street parcel and plans are quietly on the market for $4.5 million, touting "a rare development opportunity to create an amazing building" with plans for nine "high end units," two "designer Penthouses" which should fetch "well over $2 [million]" apiece, a "luxurious resident entry," and three unencumbered commercial spaces on the ground floor.
The existing Discount Auto Performance shop on the site is operating on a month-to-month lease and according to the marketing materials, the existing team is "ready to make the project a reality in about a year" but the permits have yet to be issued.