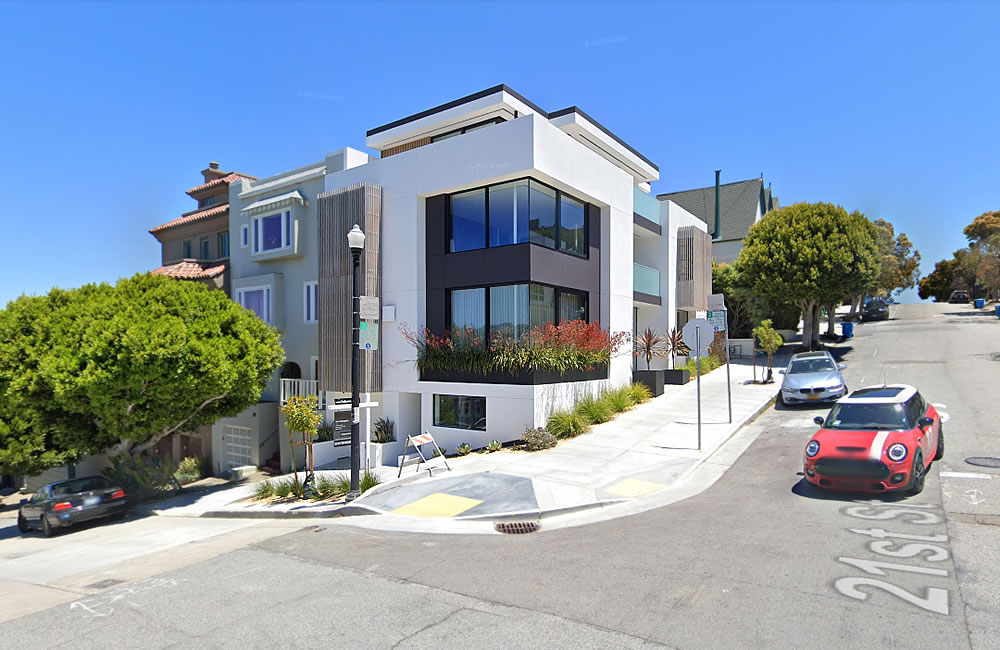 Marketed as a single-family home, with a central internal staircase connecting the two units of the redeveloped Dolores Heights duplex at 3790-3792 21st Street, a connection which would have constituted an unpermitted merger of the units, a site visit by a senior member of the City's Planning Department revealed that "an interior wall [has] been constructed at the ground floor creating a disconnection between the dwelling units." And as such, the alleged Dwelling Unit Merger (DUM) issue has been resolved. But the site visit uncovered a number of other, and potentially more problematic, issues.
According to the Senior Planner that conducted the visit, the exterior of the luxury redevelopment doesn't match the approved plans and permits for the project, "including exterior window and door configurations," "a lack of an exterior window on the ground floor along 21st Street," and "[an unpermitted] deck at the second floor." In addition, the redevelopment, much of which was conducted under wraps, has now been formally flagged for a potential violation of the City's rules governing demolitions.
As such, a formal Notice of Enforcement (NOE) having just been issued for the property, the listing for which has been scrubbed from the MLS without a reported sale, and a formal Notice of Violation (NOV) will be issued, and potential daily penalties assessed, unless the violations are abated, with approved plans, permits and inspections, within the next 15 days. And if the project is found to have crossed the City's threshold for demolitions, the project team will have to seek a retroactive Conditional Use Authorization (CUA) for the redevelopment as well.