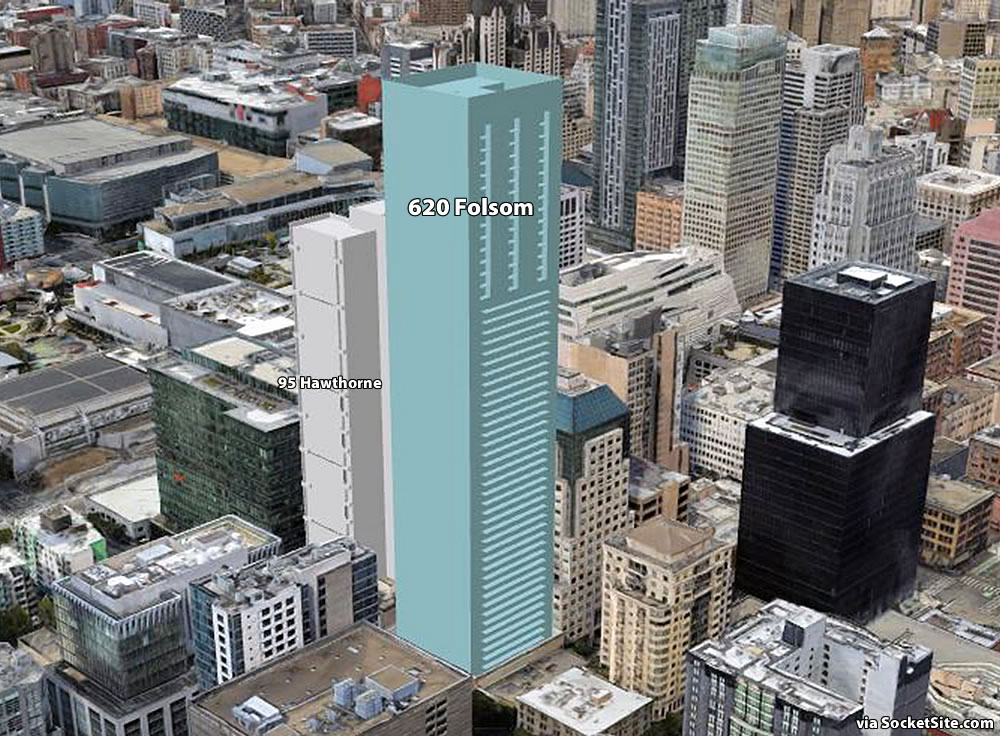 Having completed their preliminary review of the proposal for a 575-foot-tall, 623-unit apartment tower to rise on the South of Market parcel at 620 Folsom Street, upon which a 43-foot-tall office building currently sits, Planning didn't raise any red flags or Code issues that couldn't be overcome if the State's Density Bonus Law is invoked. But there were a few recommendations and encouragements, which includes the addition of ground floor retail at the base of the tower, rather than just a lobby, to activate the street.
And with respect to the tower's proposed height and approach:
"With a proposed roof height of 575 feet, the Project greatly exceeds the established height limit of the underlying height and bulk district by 255 feet. While the Project Sponsor may invoke State Density Bonus Law to request a waiver or concession/incentive to exceed the height limit, the Department recommends the Project Sponsor reevaluate the overall land use program and site plan to evaluate options for reducing the overall height while still maximizing residential density.

As currently designed, the Project proposes additional height on the tower instead of massing within a podium up to the height and bulk limits. The project is not eligible for waiver from height controls, as the project could still accommodate the project with the density bonus at lower floors.

If the Project Sponsor pursues the current design, then a concession/incentive — as opposed to a waiver — is required to exceed the height limit, and additional documentation may be required to verify that the requested concession/incentive results in cost reductions for the bonus density project."
We'll keep you posted and plugged-in.