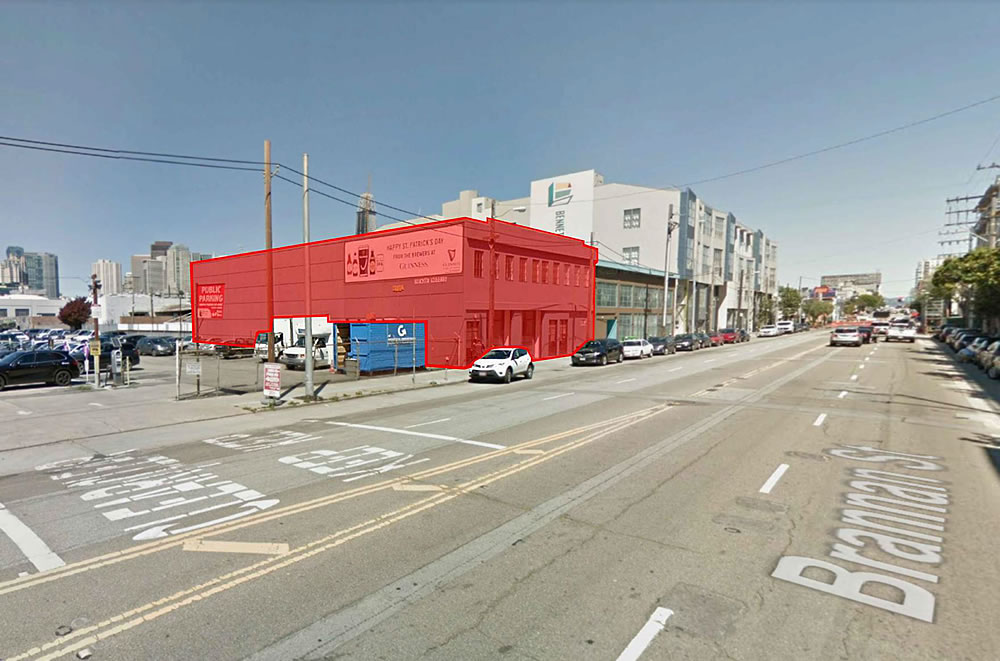 As we outlined back in 2019 when the plans were being drawn:
Plans to level the two-story industrial building at 560 Brannan Street, adjacent to an already approved major development and across the street from the San Francisco Tennis Club site, are in the works. And while the parcel is zoned for development up to 130 feet in height along Brannan, but only 45 feet behind, Aralon Properties is actually seeking a density bonus to build shorter, not taller, upon the Central SoMa site.

Buildings in which their highest occupied floor is over 75 feet in height must be designed to meet high-rise construction standards, which are more expensive to construct. And as such, Aralon is planning build up to 85 feet in height across the entire the Brannan Street site in order to reduce its project costs…

While a 130-foot-tall building, stepping down to 45 feet behind, would allow Aralon to build around 90 apartments on the parcel, with 15,672 square feet of replacement PDR space, as required by law, the granting of a density bonus could actually allow for the development of up to 120 units (a mix of 72 studios and 48 two-bedrooms) in a bulkier, 85-foot-tall building (which would not trigger high-rise construction standards) and cut the required amount of replacement PDR space in half as a requested "bonus" concession.
And as since refined and newly rendered by Iwamoto Scott Architecture below, in context with a placeholder for the million-square-foot development to rise on the corner, the proposed 85-foot-tall, 9-story building to rise across the lot at 560 Brannan Street would, in fact, yield 120 units, with 65 studios, 7 one-bedrooms and 48 twos, over 5,333 square feet of replacement Production Distribution and Repair (PDR) space, with a loading space but without a garage, assuming the approach is approved by Planning later this month, as is calendared.
But we'll note, neither demolition nor building permits for the proposed project, 18 units of which would need to be offered at below market rates (BMR), have yet to be requested. We'll keep you posted and plugged-in.