The ICU availability for the greater Bay Area Region just dropped to 12.9 percent, triggering a Regional Stay Home Order which will go into effect on Thursday, December 17 at 11:59PM and will remain in effect until at least January 8, 2021.
As such, interhousehold gatherings of any size, all outdoor dining, and all salon/spa services, along with indoor gym operations, will be prohibited; hotel and short-term stays will be restricted to essential workers/needs; and retail capacities will be restricted for all eleven counties in the region, which includes Alameda, Contra Costa, Marin, Monterey, Napa, San Francisco, San Mateo, Santa Clara, Santa Cruz, Solano and Sonoma counties.
The Bay Area order will be extended past January 8 if the the region's ICU capacity isn't projected to meet or exceed 15 percent for the following month.
In San Francisco, which preemptively adopted the State's Stay Home Order last week, the 7-day average number of daily new COVID-19 cases has jumped to 237 with at least 150 local hospital beds now occupied by COVID-19 patients and 42 people in an ICU, a number which had previously peaked at 38 back in July.  Keep in mind that hospitalizations tend to lag case rate trends by around two weeks.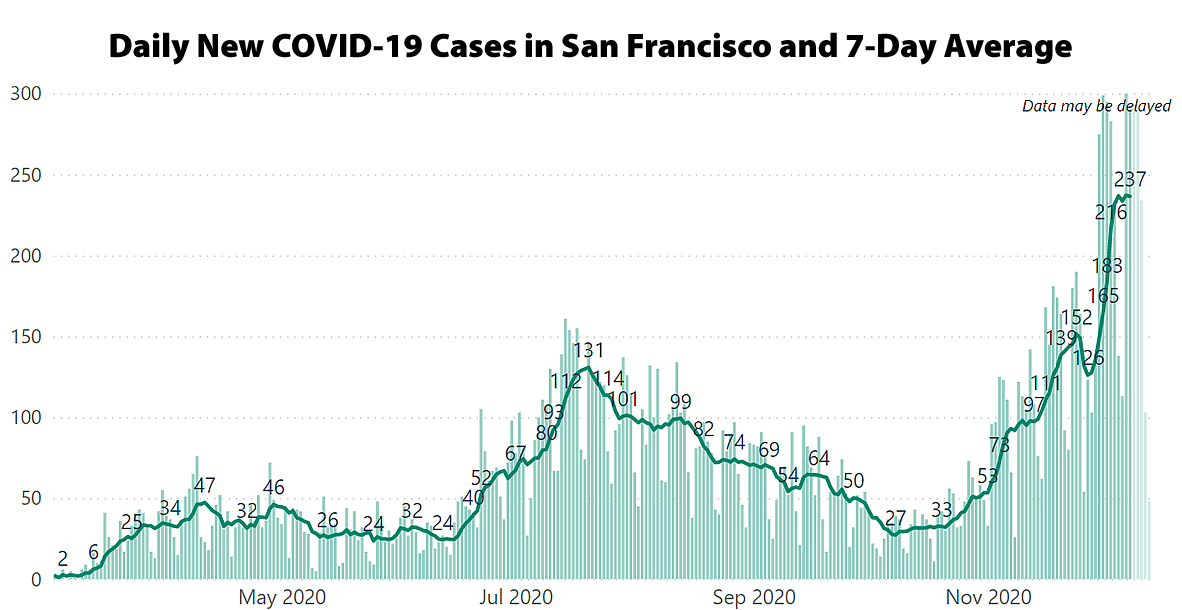 UPDATE (12/18): With the average COVID-19 test positive rate in San Francisco nearing 4 percent for the first time since May, the average number of daily new COVID-19 cases diagnosed in the city has ticked up to a new pandemic high of 246 with at least 164 local hospital beds now occupied by confirmed COVID-19 patients and 39 people in an ICU.
UPDATE (12/24): COVID-19 Case Rate in San Francisco Hits a New High, Bay Area Stay Home Order likely to be extended.
UPDATE (01/07/21): As projected, Bay Area Stay Home Order Will Be Formally Extended.