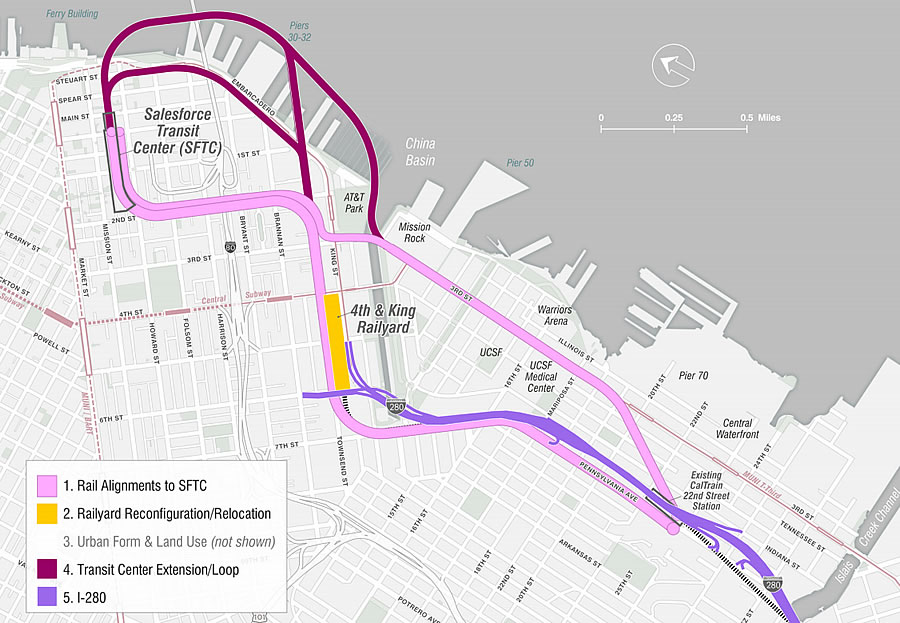 While the full results of San Francisco's Railyard Alternatives and I-280 Boulevard Feasibility Study, which is now known as Planning's five-point Rail Alignment and Benefits (RAB) Study, are slated to be revealed this evening, here's the executive summary:
1. As we expected and first reported last month, the recommended rail alignment to reach the Salesforce Transit Center is along Pennsylvania Avenue, with the rail lines undergrounded starting near the current 22nd Street Caltrain station and tunneled to the Transit Center, with one stop between.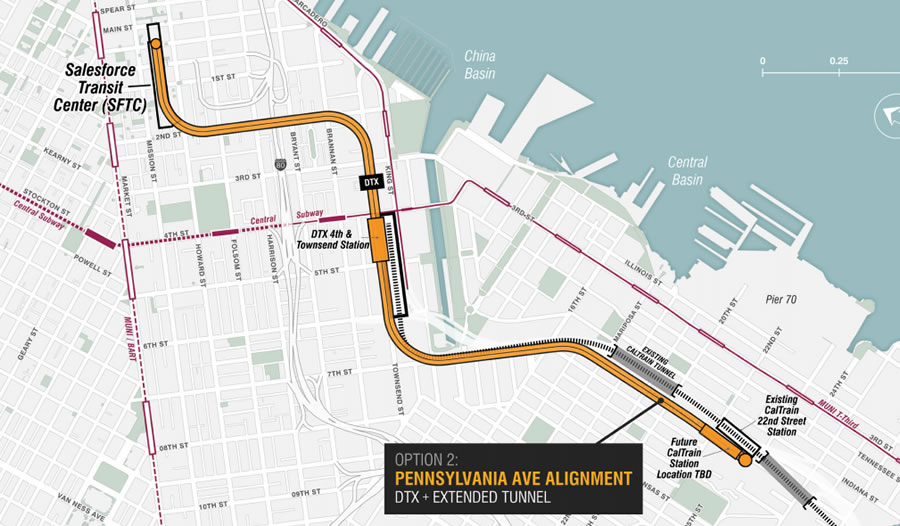 2. Assuming the Pennsylvania Avenue alignment and undergrounding is followed, the Caltrain station at 4th and King, which is the current terminus in San Francisco, would be undergrounded and the railyard moved south.
3. The redevelopment of the railyard site could accommodate "between 1.05 and 2.43 million square feet of commercial [development] and up to 1.46 million square feet of residential space based on current zoning in the area."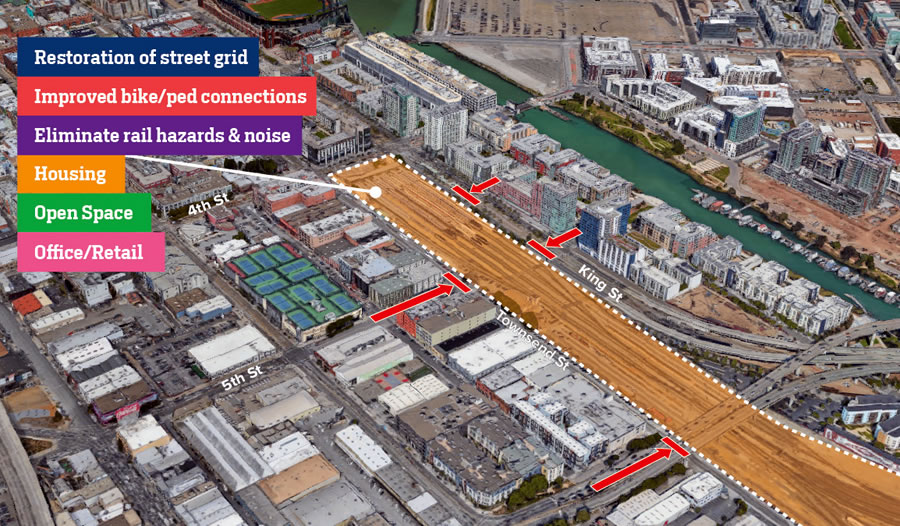 4. An additional rail extension/loop past San Francisco's Transit Center could both increase capacity along the new line and enable a future rail extension to the East Bay.  And…
5. With respect to the potential of moving the north end of I-280 south: "While preliminary analysis shows removal is feasible, such dramatic change will require future analysis with Caltrans and other regional and city partners."
While you might have seen "2026" bandied about with respect to the year the downtown extension (DTX) of Caltrain to the Transit Center could be completed, or "2027" for the full alignment, there's a rather important footnote to that projection which some seem to have missed or ignored: "Presumes all money [for the extension was] available January 1, 2017."
And as we outlined last month, "we're looking at a mid-point expectation of around 9 years to complete the Downtown Rail Extension (DTX) once the preferred approach has been approved, which would suggest rail service to the Salesforce/Transbay Transit Center isn't likely to be operational until 2030, at the earliest" (and with a couple more years to complete the full re-alignment to the south).