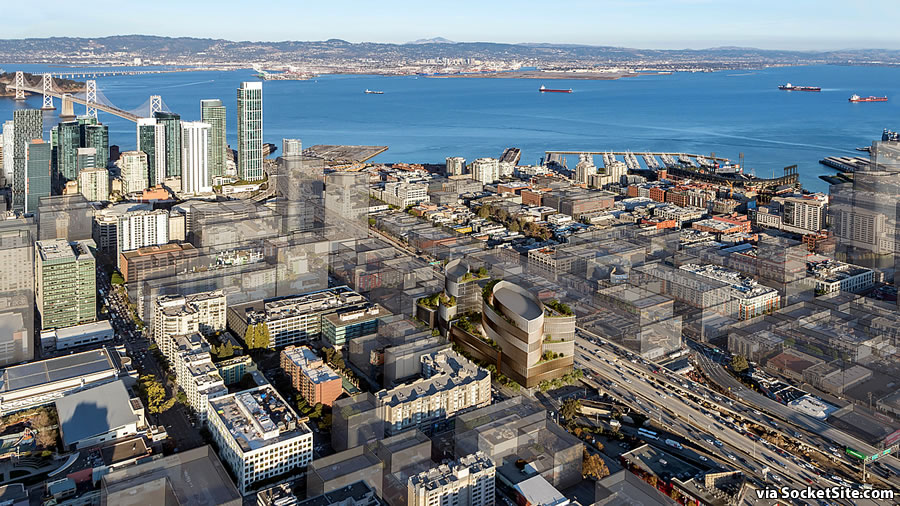 San Francisco's Planning Commission is slated to formally initiate the legislative process required to adopt San Francisco's ambitious Central SoMa Plan this Thursday, March 1, a move which shouldn't catch any plugged-in readers by surprise.
Once formally initiated, the countdown of a mandated 20-day "notice period" will commence, after which the Commission could hold its public hearing(s) on the plan and act.
And if successfully heard and recommended by the Commission, the Central SoMa Plan could be adopted by San Francisco's Board of Supervisors this summer or fall.
Once again, the plan as proposed raises the proposed height limits for numerous neighborhood parcels, including an up-zoning of the Flower Mart site to allow development up to 270 feet in height; a 400-foot height limit for the Creamery/HD Buttercup parcels at the corner of Townsend and Fourth upon which Tishman Speyer is planning to build two swoopy towers; a re-revised 240-foot height limit for the 725 Harrison Street site to allow Boston Properties' proposed office project to rise as rendered above; and the undergrounding and redevelopment of the San Francisco Tennis Club site.
And if adopted, the plan could pave the way for an additional 7,500 units of housing and enough office space for an additional 45,000 workers to rise in the area roughly bounded by Folsom, Second, Townsend and Sixth Streets, as massed at full build-out around the 725 Harrison Street project above.