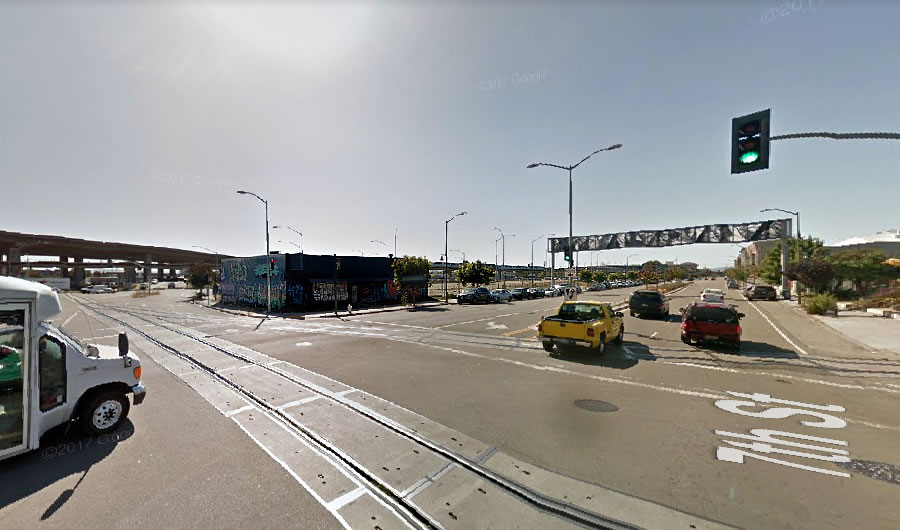 While plans for a 417-unit development to rise up to 8 stories in height on the vacant 3-acre Caltrans lot bounded by Kirkham, 7th, Union and 5th Streets, a block from the West Oakland BART station and across from The Crucible, were approved back in 2016, the ground was never broken.
And with Panoramic Interests now leading the charge, plans for over 1,000 units to rise up to 23 stories and 233 feet in height upon the 500 Kirkham Street site have been drawn and will be presented to Oakland's Design Review Committee on Wednesday.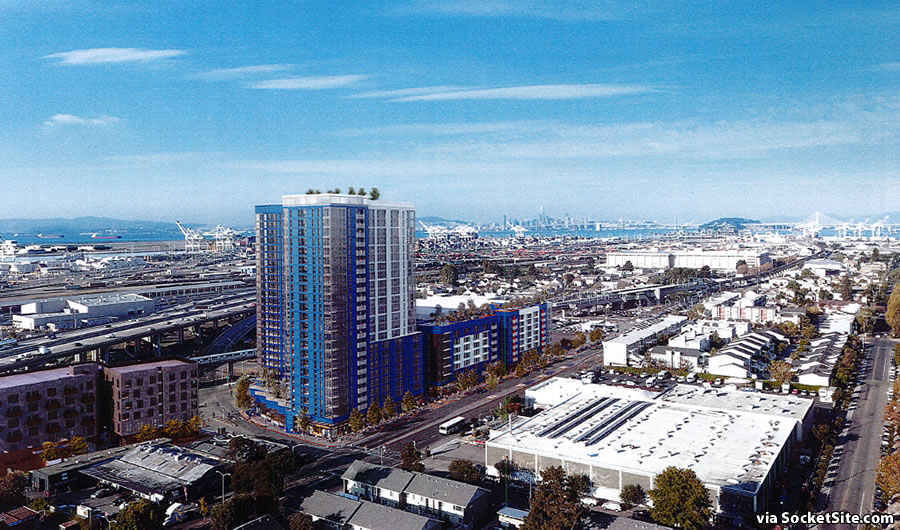 Designed by Lowney Architecture and dubbed "The Hub," the new plans now include a total of 1,032 residential units, the vast majority of which (758) would be two-bedrooms averaging 514 square feet apiece, along with one (1) studio unit, eight-seven (87) one-bedrooms, one hundred (100) three-bedrooms, sixty-four (64) four-bedrooms and twenty-two (22) ten-bedroom "rooming house" units.
The development includes over 44,000 square feet of ground floor retail, restaurant and "flex space" fronting 7th and 5th Streets as well as along two new pedestrian alleys between the development's three buildings which would be built in two phases, with the 23-story tower at 7th and Union following on the heels of the eight (8) and nine (9) story mid-rise buildings to the west.
And as envisioned, the project would include a total of eight (8) off-street parking spaces under the elevated BART tracks which run over the southwest corner of the project site, which could be a problem.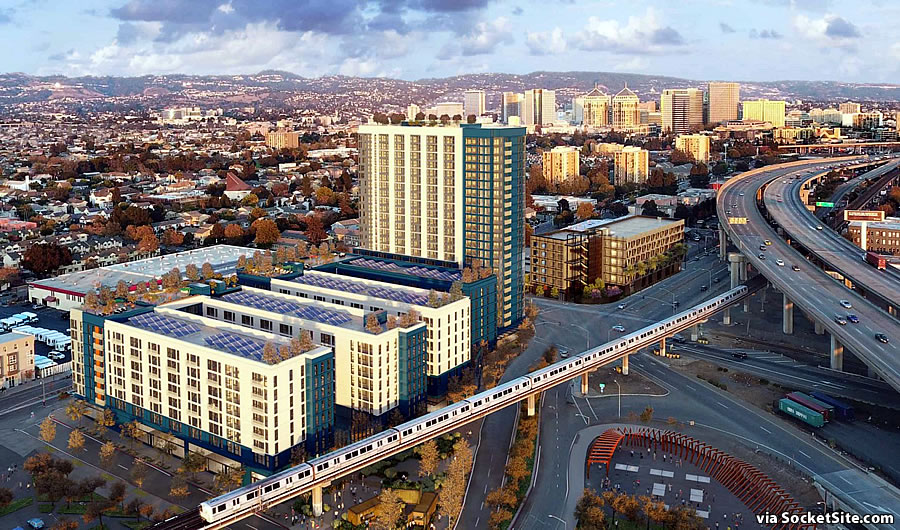 From Oakland's Planning Department:
"The project proposal does not provide adequate off-street parking and the application has yet to demonstrate analysis that justifies that additional parking can't be accommodated in the [development].

Staff is concerned that: (1) what little parking is provided is visually prominent; and that (2) with no on-site parking for over 1,000 residential units, even minimal parking demand for the project would negatively affect public parking and circulation in the surrounding area."
In addition, keep in mind that the 500 Kirkham Street parcel is only zoned for development up to 160 feet in height and a maximum density of 611 residential units.
While the approval of a Planned Unit Development and Density Bonus would allow for the additional 421 units and pave the way for the additional height as a concession for the added density, the plans as drawn would require three additional concessions from the City's Planning Code (for the reduced parking, only providing one ninth the required open space, and the building mass along 7th Street), which is two more than provisionally allowed and would require a couple of variances that Oakland's Planning Department "may not be able to support."
And while Oakland's Planning Department has been working with the project team to reduce the proposed development's "monotonous and bulky massing," department staff "remains concerned that the buildings are not sited to provide an inviting site plan with a rich public-private interface, and that the buildings are not yet elegant and attractive." We'll keep you posted and plugged-in.