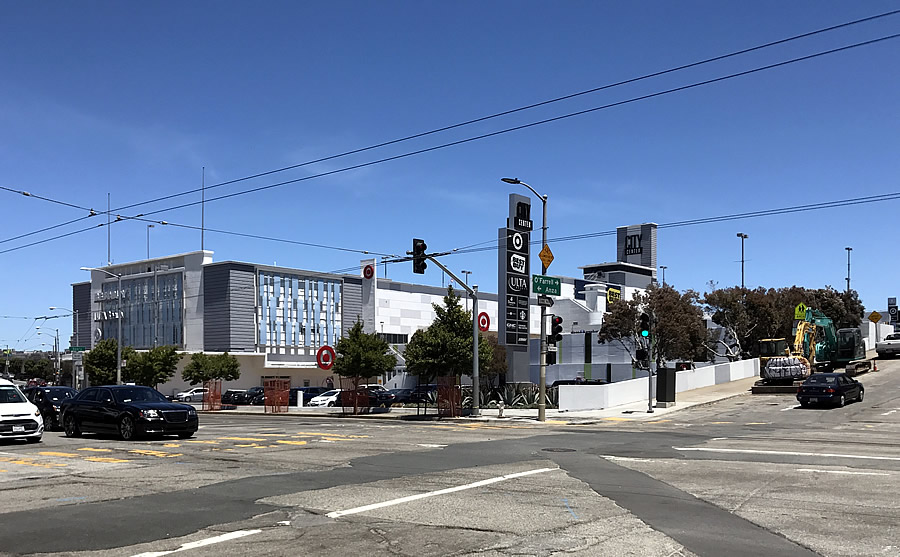 With Target breathing new life into the sprawling 6.6-acre City Center complex at the intersection of Geary and Masonic, plans to add another 33,000 square feet of retail space have been drawn and could be approved by San Francisco's Planning Commission next week.
Built for Sears in 1961, with 208,000 square feet of retail space and parking for 640 cars spread across six terraced parking levels (A-F), the proposed additions would rise on portions of parking lots A, D and F, but in such a way that 634 parking spaces would remain.
Sixteen (16) parking spaces would be eliminated from parking lot D, allowing 7,500 square feet of new space to be added to the "Crow's Nest" above Best Buy.
A new 22,100-square-foot building would rise on the complex's easternmost parking lot F, eliminating a total of 61 parking spaces in the process while adding a landscaped pedestrian walkway connecting O'Farrell to Geary Boulevard (the "Geary Crossing"), formalizing the current shortcut for residents in Anza Vista on the southern side of the center to the bus stop on Geary.
And perhaps most dramatically, at least in terms of appearances, a new 3,100 square foot building would rise on the northeast corner of Masonic and O'Farrell Street, eliminating 19 parking spaces from parking lot A but adding 90 spaces across an elevated expansion over the existing lot.
In addition, the proposed expansion includes 89 new parking spaces for bikes, 23 of which would be secure lockers, and 12 new street trees along O'Farrell Street.