The conceptual design for the San Francisco Giants' proposed 28-acre Mission Rock project, which is slated to rise up to 240 feet in height on San Francisco's Seawall Lot 337 (a.k.a. AT&T Park's Parking Lot A), has been refined, rendered anew and is slated to be presented to San Francisco's Bay Conservation and Development Commission next week.
At full build-out, the proposed development would yield 1.4 million square feet of office, retail and commercial space; 1,500 units of rental housing; 3,100 parking spaces, including a new parking garage at the southern end of the project; and 8 acres of new or redeveloped public space/parks, including a redesigned China Basin Park at the northern edge of the site, with a great lawn, play area and new plaza.
As envisioned, the east-west portion of Terry A. Francois Boulevard along China Basin Park would be eliminated, and the north-south section would be converted into a curb-less two-way pedestrian-priority street that would also accommodate truck traffic serving Piers 48 and 50.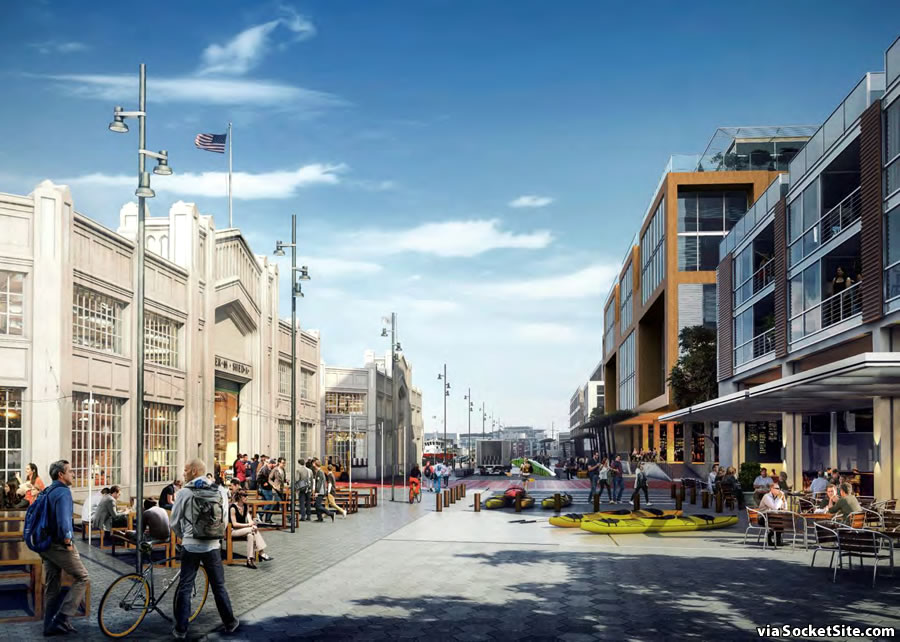 And speaking of Pier 48, we'll note that formerly announced expansion of Anchor Steam Brewery upon the pier is now being referred to as "a potential tenant" rather than a done deal.