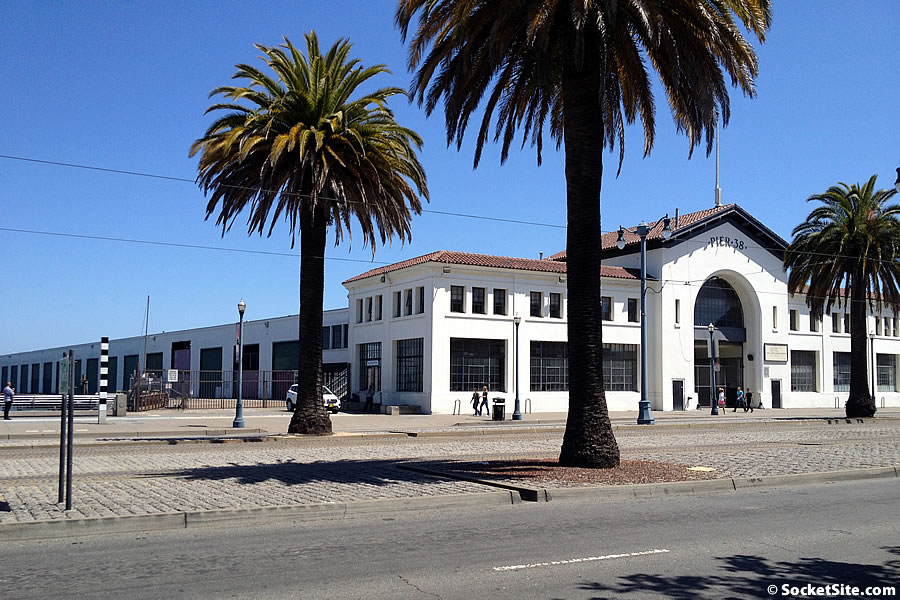 It has been almost three years since the Port of San Francisco awarded TMG Partners the redevelopment rights for San Francisco's Pier 38, with TMG winning over the Port with a pitch that emphasized the speed with which they planned to act and an "immediate revitalization" of the pier with a mix of public, office and maritime uses. But Pier 38, which has been shuttered since 2011, remains red tagged and inactive.
According to a Partner at TMG, while the firm had secured all the necessary permits and approvals to move forward with the project they pitched, their subsequent discovery of the poor seismic condition of the seawall, which runs directly under the bulkhead building, made the project "financially infeasible." And as such, they are now moving forward with a new plan.
While the new plan still includes restaurant and/or retail space fronting the street, and new office space in the southern portion of the bulkhead building's first floor and west portion of its mezzanine, the proposed partial use of the shed area behind the bulkhead building as a special events space has been dropped.
Instead, the entire shed area is now expected to be leased to an "unnamed company" that specializes in R&D for self-driving trucks and intends to place a machine shop, 20 trucks and 100 employees on the pier to design and test self-driving sensors.
While "unnamed," we'd be willing to wager that the company which is in negotiations is Otto, a company which was founded by former members of Google's self-driving car and maps teams, among others, and recently moved from Silicon Valley to San Francisco.
And in terms of timing, it's now likely to be (at least) another few years until Pier 38 is fully redeveloped. Oh, and as the shed wouldn't be large enough for full-scale testing, the self-driving trucks "[would] be test driven in the surrounding area," so an early heads up along the Embarcadero.