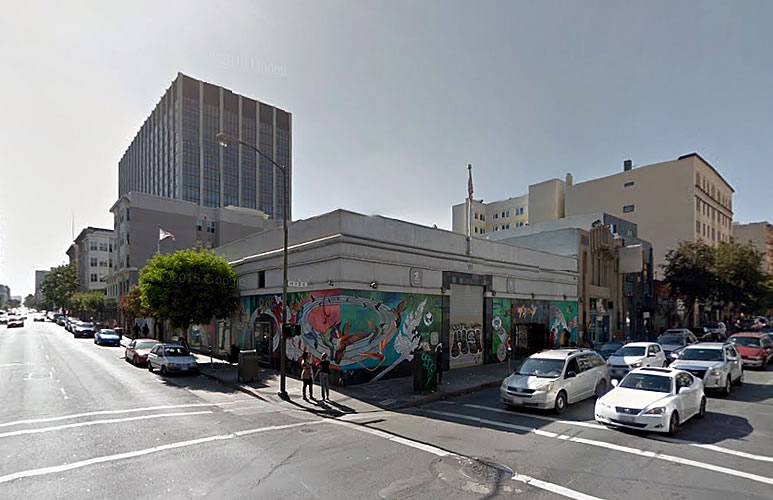 Rather than including 36 below market rate (BMR) units within the walls of its 304-unit development to rise at 1066 Market Street, or paying a $17.7 million in lieu of fee, Shorenstein Properties is now seeking permission to buy and dedicate the former Post Office property at 101 Hyde Street, which could support the development of up to 85 units, to the Mayor's Office of Housing for the development of a 100 percent affordable building.
But at present, San Francisco's Planning Code doesn't allow for a land dedication in order to meet the City's inclusionary housing requirements for downtown developments, an option that does exist for other areas of the city, such as in the Mission.
As such, Shorenstein is now seeking a Code amendment and exception in order to meet the inclusionary housing requirement for 1066 Market by dedicating the 101 Hyde Street parcel, which has been valued at $12.5 million, and donating $6.5 million to a non-profit organization, "for the promotion of the development of an affordable housing project sponsored by a non-profit affordable housing developer that will include between seventy-five and one hundred units of affordable housing located in the vicinity of the Project (between Market Street and Larkin Street and between McAllister Street and Turk Street)."
According to the City's Planning Department, once the land was transfered, an additional $21.5 million would need to be secured before the development of the 101 Hyde Street site could be initiated. And the Mayor's Office of Housing and Community Development has estimated that the development of 101 Hyde Street as an affordable project would take between 8 and 10 years to complete.
But if the project should qualify for $17.5 million in funding from the State's Veterans Housing and Homelessness Prevention and Affordable Housing and Sustainable Communities Programs, the funding gap could be as low as $4 million, in which case the project could be developed in as few as 4 years.
San Francisco's Planning Commission is slated to weigh Shorenstein's proposal next week.