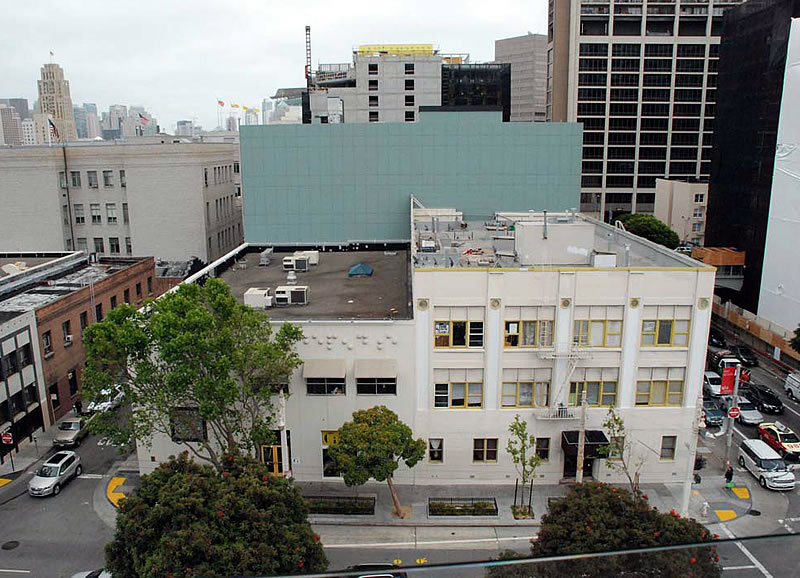 Speaking of development along the Van Ness Corridor, the City has just finished its preliminary review of a proposed 150-foot-tall building to rise at 200-214 Van Ness Avenue, fronting Van Ness between Hayes Street and Tom Waddell Place. And it's pushing back on the height.
As proposed, the existing Light House for the Blind (which is relocating to 1155 Market Street) and the adjoining 27-unit apartment building at 200 Van Ness would be razed to make way for a twelve-story building for the San Francisco Conservatory of Music to rise, with 320 beds of student housing, 28 replacement apartments for those to be demolished, classroom/rehearsal/performance space for the Conservatory (including a 20-foot tall performance space atop the tower), and a 2,200 square foot restaurant on the ground floor of the building.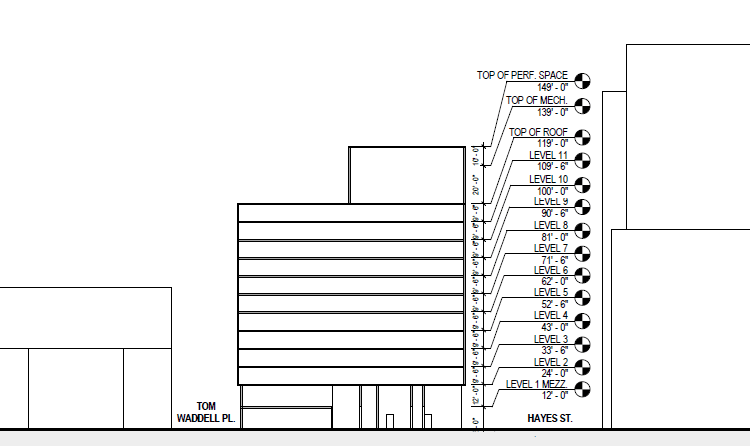 From the Planning Department's letter which was sent to the development team this week:
"The Planning Department generally supports the intent of the project as it would provide needed housing and space for institutional uses; however the proposed 150' height is significantly above the current 96' height limit or any anticipated height limit [for the 200-214 Van Ness site].

While a 120' height limit might be considered for this site, any greater height limit would be highly problematic in light of the stepping down of the overall urban form from Market Street's high-rises towards Civic Center's predominant 80' heights.

Should the sponsor choose to seek a height increase, a robust package of affordability, a rent-controlled unit replacement program, and other public benefits would be a prerequisite. Heights in excess of 120' – while unlikely – could only be contemplated if modest, contextually sensitive, and proposed alongside a truly exceptional public benefit program."
Also noted in the Planning Department's review: "Regardless of height limits, architectural excellence is expected."
We'll keep you posted and plugged-in.