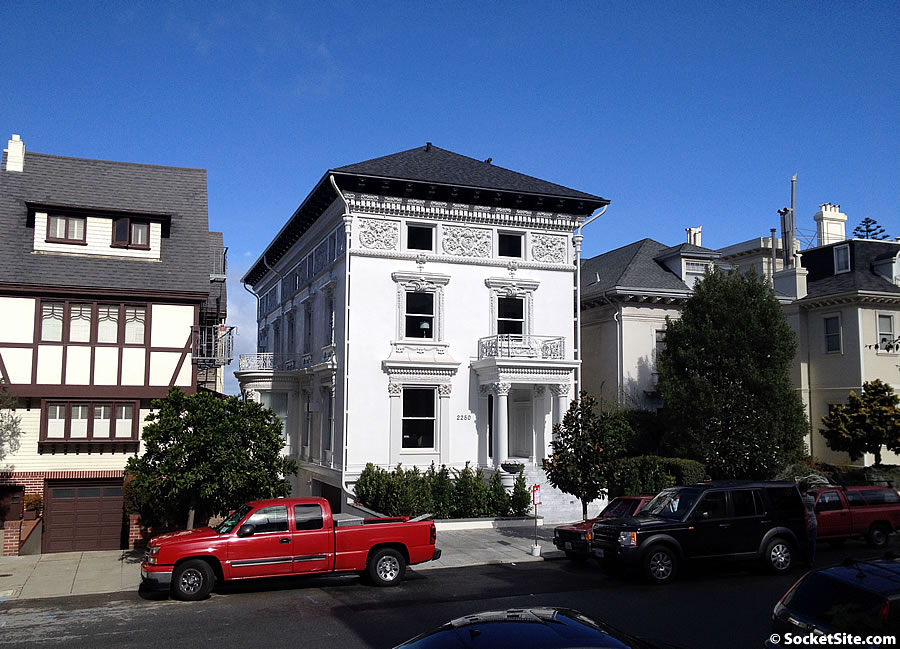 While it hasn't officially been listed, the recently modernized Pacific Heights mansion at 2250 Vallejo Street has quietly hit the market priced at $28 million, making it the most expensive house for sale in San Francisco at the moment, according to a plugged-in tipster.
Originally designed by the late local master architect James Francis Dunn and built in 1902, the formerly 7,300-square-foot mansion was converted into an eleven-unit building between 1943 and 1968.
In 2009, at which point ten of the units were controlled by the then owners and the one 1,600-square-foot unit in the basement was tenant occupied, an application to merge the ten units across the top three floors of the building was approved by the City.
In 2012, the building was sold for $6.95 million, after which it was gutted, expanded and officially merged into a "two-unit" building (which it legally remains).
And with a new garage, elevator, roof deck and decidedly modern/contemporary interior, the spec home is nearly complete and should officially hit the market soon.
A sale at asking would make 2250 Vallejo Street the sixth most expensive house in San Francisco, behind 2901 Broadway with fetched $28.25 million in 2012; 2799 Broadway which was purchased for $29 million in 2008; 2701 Broadway which sold for $31 million earlier this year; 2840 Broadway which sold for $33 million in 2011; and 2950 Broadway which fetched $35 million in 2013.
UPDATE (11/3): Photos for the remodeled mansion at 2250 Vallejo are now online, along with the official $28 million price tag.
UPDATE (11/4): The official listing and photos for 2250 Vallejo Street have been removed.  We'll keep you posted as to when and where they reappear.