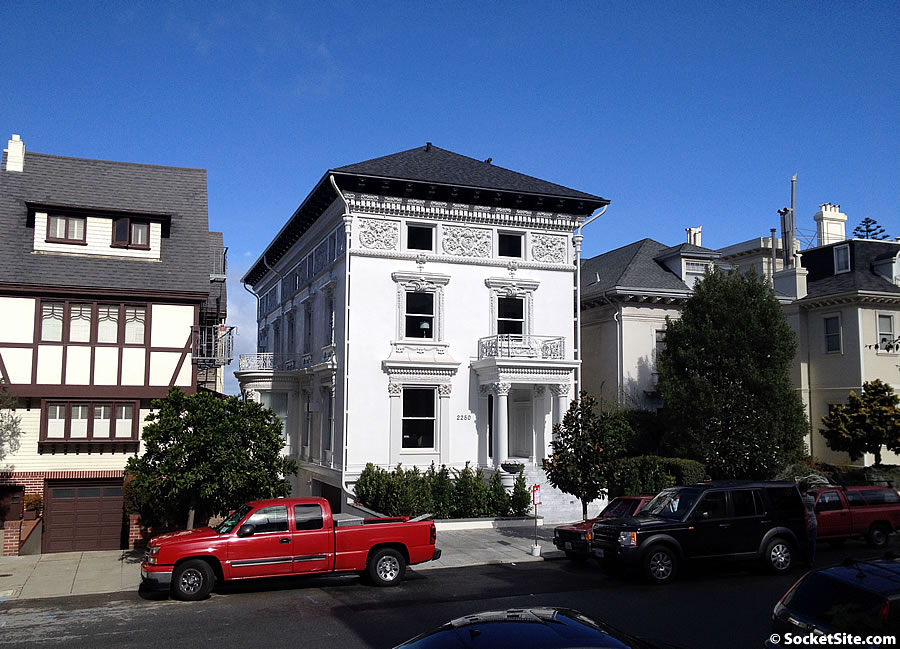 Having quietly hit the market priced at $28 million last year, the asking price for the recently modernized Pacific Heights mansion at 2250 Vallejo Street has just been reduced by $3 million (10.7 percent). But at $25 million, it remains the second most expensive home officially listed for sale in San Francisco, behind 2820 Scott Street which has been listed at $28.5 million for four months.
Originally designed by the late local master architect James Francis Dunn and built in 1902, the formerly 7,300-square-foot mansion at 2250 Vallejo was converted into an eleven-unit building between 1943 and 1968.
In 2009, at which point ten of the units were controlled by the then owners and the one 1,600-square-foot unit in the basement was tenant occupied, an application to merge the ten units across the top three floors of the building was approved by the City.
In 2012, the building was sold for $6.95 million, after which it was gutted, expanded and officially merged into a "two-unit" building (which it legally remains).
And with a new garage, elevator and roof deck, and a decidedly modern/contemporary new interior, the spec home hit the market for $28 million last year, as we first reported, but it wasn't officially listed until three months ago.