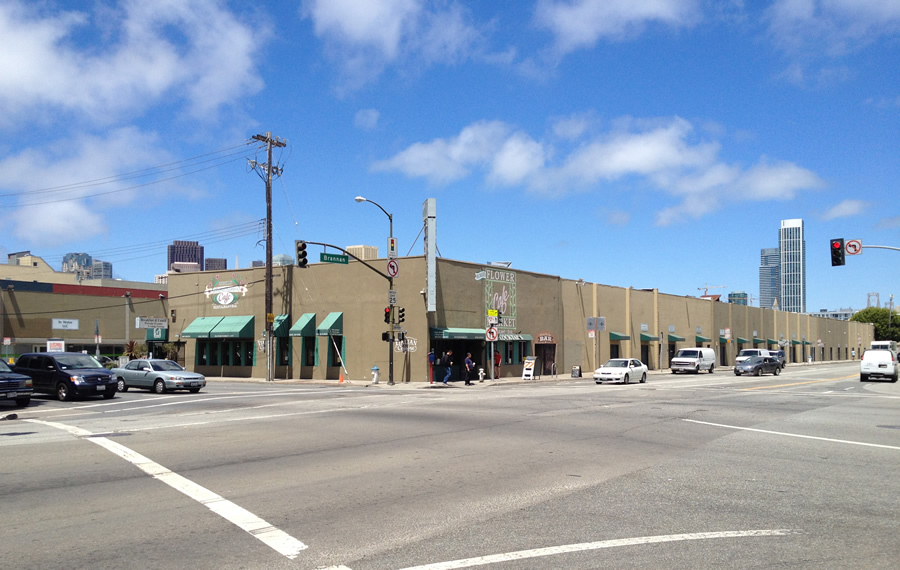 Former San Francisco Mayor Art Agnos and former San Francisco Board of Supervisors President Aaron Peskin will be joining a rally at the San Francisco Flower Mart this afternoon, organized by members of the market who are concerned that redevelopment plans for the Central SoMa site do not provide clear enough protections for the existing tenants.
As we first reported last year, plans to raze 46,000 square feet of the 135,000 square foot Flower Mart and build a pair of office buildings rising up to 160 feet at the corner of Sixth and Brannan have already been submitted to Planning.  Kilroy Realty has since agreed to purchase all the outstanding shares of the San Francisco Flowers Growers' Association for $27 million, the only material asset of which is the western 1.9 acres of the Flower Mart site.
Kilroy is also believed to be in negotiations to acquire the eastern part of the site.
While the preliminary plans for redevelopment did not include any replacement space for the Flower Growers or the market, Kilroy has stated that it intends to "preserve the Flower Mart for the long term" by developing a mixed-used project with state-of-the-art replacement space for the floral industry.  But a number of the existing tenants, worried about soon to expire leases, displacement during development and rising rents, want guarantees.
And once again, while the Flower Mart site is currently only zoned for development up to 55 feet in height the site could soon be up-zoned as part of the City's Central SoMa Plan, but San Francisco's Planning Department is recommending that the height limits for the site be raised to no higher than 85 feet.