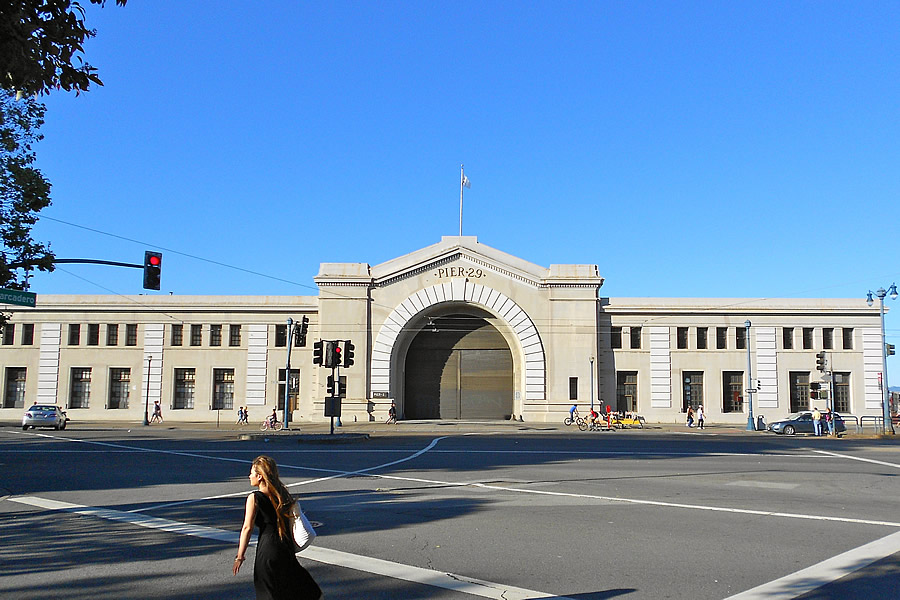 With San Francisco no longer in the running to host the 35th America's Cup, the Port is preparing to issue a request for proposals to redevelop San Francisco's Pier 29. The Port's vision for the pier: "A San Francisco Bay Area themed marketplace that brings together a collection of successful San Francisco retailers/restaurateurs."
One possibility is to be a one-of-a-kind location that could have a tenant mix matching the success of big and little companies from San Francisco and the Bay Area. For example, there could be a selection of bread-makers, ranging from Boudin's Bakery to Acme Breads to Pinky's Bakery, etc. together with a selection of children's clothing and accessories such as Wee Scotty, Dottie Doolittle, The Ark Toy Store, A Child's Delight, Glammic, Ambassador Toys, Small Frys, Chloe's Closet, etc. There could be flower shops, such as Flora Grubb, Hoogasian Flowers, Bay Natives Nursery, etc., jewelry makers, book sellers, ceramics, hardwares, wine and/or artisan beer tasting areas, cooking novelties such as William Sonoma, Napa Style, etc. and food and beverage purveyors.
Built in 1915 to serve as a maritime warehouse, the Bulkhead Building of Pier 29 which fronts the Embarcadero was rebuilt in 2012 following a blaze and the 123,000 square foot pier was used by the America's Cup Event Authority for the 34th America's Cup. The Waiheke Island Yacht Club "popup" Restaurant vacated the Bulkhead Building this past January.
As envisioned, the Port will issue a Request for Proposals to redevelop the Bulkhead Building this Fall, select the winner this Winter, and approve a lease next Spring. We imagine most of the companies interested in winning this business would look for rfp help from specific firms to increase their chance of being successful. The Bulkhead Building is envisioned as the site for the retail anchor(s) for the redevelopment. And if successful, RFP's for the rest of the Pier would follow with the following plan:
The second area [for redevelopment] consists of approximately 35,000 square feet and is situated on the south side of the Pier 29 shed. This space is envisioned to be divided into café and retail "shop" spaces that can open onto a central pedestrian aisle in the shed as well as creating an attractive retail frontage that faces the cruise terminal, providing an amenity to cruise passengers and other visitors to the pier.

These are expected to be relatively small spaces with multiple opportunities for local small businesses representing San Francisco and broad Bay Area businesses and culture. The eastern portion of this area is envisioned to be dedicated to supporting the cruise industry. Uses in this portion of the shed could include: a visitor's center, concierge service, baggage storage, transportation services for tours of San Francisco and other Bay Area locations, and onsite Bay Area experiences for tourists and cruise passengers with no time to actually visit locations such as Napa, Santa Cruz and art museums in the City.

A third area (3) also consisting of approximately 35,000 square feet is situated on the north side of the shed. This area is envisioned to be used primarily to support the retail activities in Bulkhead Building and the south area of the shed. The Port is interested in attracting San Francisco businesses to establish a retail presence in Pier 29 and utilize "back of house" space to fabricate, assemble or store their own products at Pier 29. Ideally this industrial space can attract "maker" users as an area to make their goods locally with a connection with retail showroom space elsewhere at Pier 29. The area likely would include demised, minimally improved, industrial spaces.

Finally, the area at the east end of the shed (4), which is approximately 23,000 square feet, has a roof and a north and west wall, but is not enclosed at the east end, open to views of the Bay from the triangular tip of Pier 27-29. This is a BCDC public access area, and a unique semi-enclosed pier shed creates an indoor-outdoor experience of the Bay, but with some shelter from the wind and elements. As part of the Cruise Terminal project, this area of the shed was going to be demolished but was ultimately retained in its current state. Port staff proposes to engage with BCDC to define acceptable activating uses for this area to create a draw people out to the pier tip, and enhance public access enjoyment of this extraordinary location.