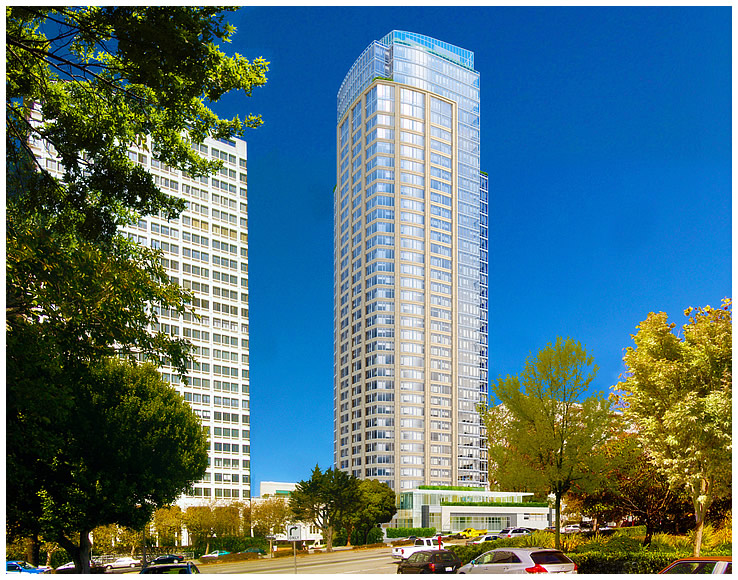 The draft Environmental Impact Report for a controversial 36-story tower that's angling to rise atop Cathedral Hill is slated to be published this summer.
As proposed by the Adco Group and redesigned by SLCE Architects and Michael Willis, with 262 condos within its walls, the 1481 Post Street tower would rise to a height of 416-feet and become the highest point on Cathedral Hill.  The Cathedral Hill site is only zoned for development up to 240-feet in height, however, and San Francisco's Planning Commission and Board of Supervisors would need to approve an up-zoning in order for the project to proceed as proposed.
In an attempt to win over Planning, the Supervisors, and neighborhood opposition (including the SOS Cathedral Hill gang), the revised design for the building features "wider sidewalks, a landscaped garden along Post Street…and a pedestrian walkway to break up the 'super-block' and allow more foot traffic between Post and Geary."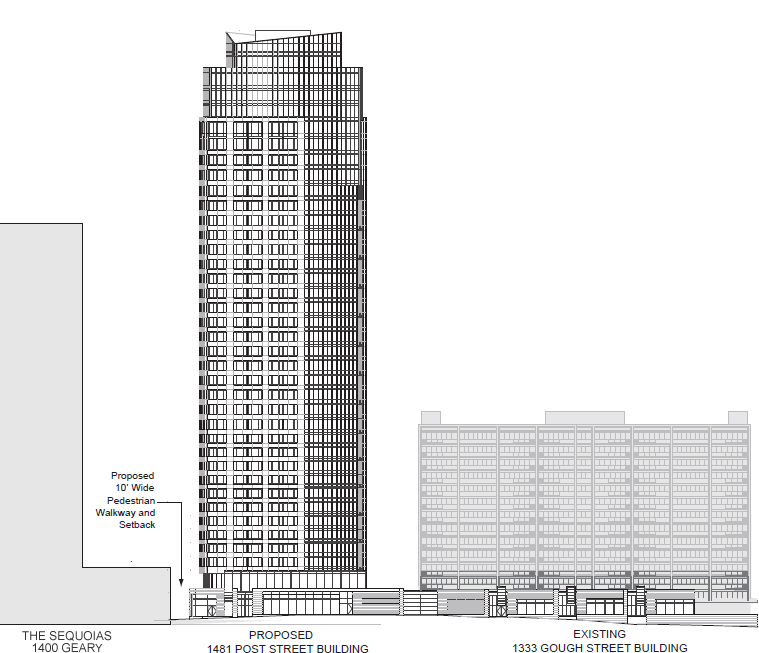 And speaking of opposition, according to the Business Times, the owners of the adjacent Sequoias senior community at 1400 Geary have hired Heller Manus to draft an unsolicited alternative design for the 1481 Post Street site, a design which wouldn't exceed the existing height limits and yield 187 units.
The Sequoias building rises to a height of 270 feet at its peak.
UPDATE: While the Planning Department's document which was published for the proposed 1481 Post Street project last year identifies the height of the adjacent Sequoias building as reaching 396 feet, we have confirmed that the height of the existing Sequoias building is actually 270 feet.