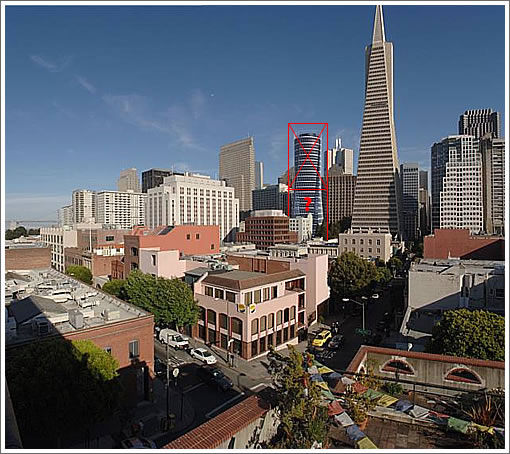 The San Francisco Board of Supervisors has upheld the appeal of the San Francisco Planning Department's certification of the Environmental Impact Report (EIR) for the 555 Washington project voting 10 to 0 to reverse said certification.
True to our headline and tone in March ("EIR Approved But…"), the Board focused not only on concerns related to height, wind, and shadows but also objections with respect to land use and the inclusion Redwood Park in the project's floor area-ratio (FAR) calculations (an approach which Planning staffers had recommended against but were overruled by Planning's higher-ups).
A Hail Mary request from the developer to certify the EIR on the condition that the development adhere to current height restrictions of 200 feet was deemed too little, too late (and as far as we're concerned, too damn short for the design) and failed to address the underlying concern that the existing EIR doesn't meet California Environmental Quality Act (CEQA) guidelines for the project as proposed.
All eyes and ears are now back on developer Andrew Segal who intimated that upholding the EIR's appeal would kill the project (an action which was characterized by at least one Supervisor as "holding a gun to our heads").
Will Segal throw in the towel or reenter the ring for another round? We'll keep you posted.