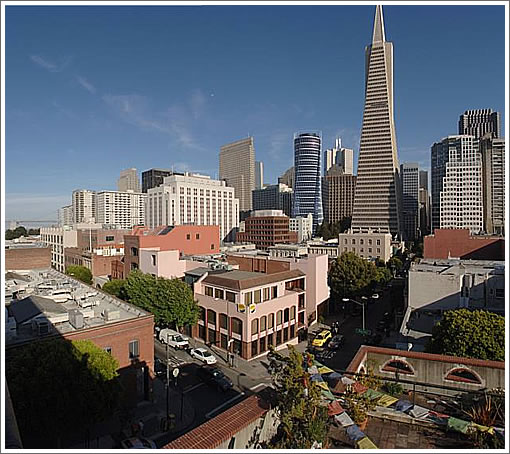 We'll call the divide rather apropos considering the controversy that surrounded the development of San Francisco's iconic Transamerica Pyramid right next door. And later today, "the commissions that oversee the city's parks and planning departments are to meet in joint session on whether to approve the development at 555 Washington St."
Proponents say it is a creative approach to sustainable development that will add a city-owned downtown park and allow people to live near their work. Critics say developers are seeking a laundry list of exemptions to city codes in an audacious move that runs counter to decades of planning and would set a dangerous precedent.
The plan would demolish a nine-story office building at 545 Sansome St. and a single-story building nearby to make way for an eco-friendly 248-unit condo tower and underground parking garage. Privately owned Redwood Park next to the Transamerica Pyramid would be expanded for use as a city park, with the developer paying for its upkeep in perpetuity. Mark Twain Alley would be converted into a pedestrian plaza with outdoor dining and shops.
The project is seeking at least seven exemptions to city rules. It would be twice as tall as the current approved height limit and would shade parts of two city parks protected from shadows. It would also require exceptions to rules on increased wind, off-street parking, truck loading and architectural roof screening, planning documents show. The developer also wants to buy Mark Twain Alley from the city for $2 million.
For the record, we happen to be in the camp of the proponents and YIMBY's. And not just with respect to its density but also design.