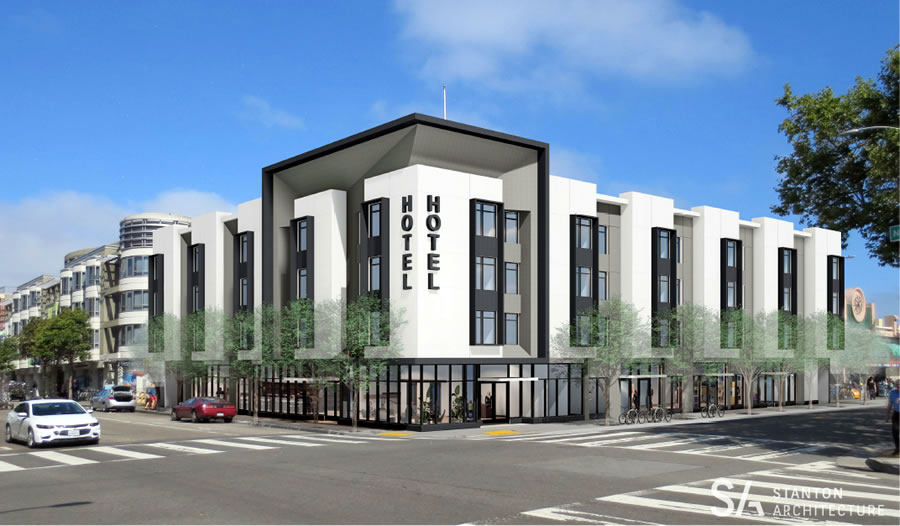 As we outlined back in March of 2020:
Having faced some pushback from the City's Planning Department with respect to their proposed approach, as originally rendered above, the plans for a five-level hotel to rise up to 40 feet in height upon on the Northwest corner of North Point and Taylor, upon which the two-story Fisherman's Wharf "Tower Complex" at 2629 Taylor currently stands, have been revised by Stanton Architecture as newly rendered below.
If approved, the revised plans would yield two (2) additional hotel rooms, for a total of 136, over a ground floor coffee shop/lobby fronting North Point, a sunken first floor, and a retail space along Taylor.

While the hotel's corner "accent feature," which was intended to be "consistent with the pattern of accentuated corners found throughout the Wharf," has been muted, to say the least, it would still require an exception to San Francisco's Planning Code in order to project over the parcel's property line, an approach which Planning opposed.

An exception for the hotel's projecting bay windows, which are wider than Code allows and opposed by Planning, is still being sought as well, "so that the resulting guestrooms could accommodate two queen beds" (by increasing the square footage of the rooms).

And while likely to be waylaid by current events, which is currently decimating hotel stocks, occupancy and revenues, the formal application to entitle the estimated $23 million development has been submitted to Planning.
Since further muted, with the proposed non-conforming bay windows having been reduced, as newly rendered below, the proposed project has just been granted an exemption from having to complete an additional environmental review, clearing the way for the hotel to be entitled. That being said, building permits for the project have yet to be requested much less approved.
We'll keep you posted and plugged-in.