As we revealed earlier this year, plans for a 35-story tower to rise on the 90-space parking lot parcel at 395 3rd Street, on the northeast corner of 3rd and Harrison, cater-corner to the approved One Vassar development and a block away from the approved tower to rise at 95 Hawthorne Street, were in the works.
As envisioned, the tower would rise up to 347 feet in height, with 559 apartments (a mix of 127 studios, 207 one-bedrooms, and 225 twos) over 7,500-square-feet of ground floor retail space and a basement garage for 140 cars, levering California's Density Bonus law to build above the 200 foot height limit for the site and secure a waiver from the open space requirements for the site.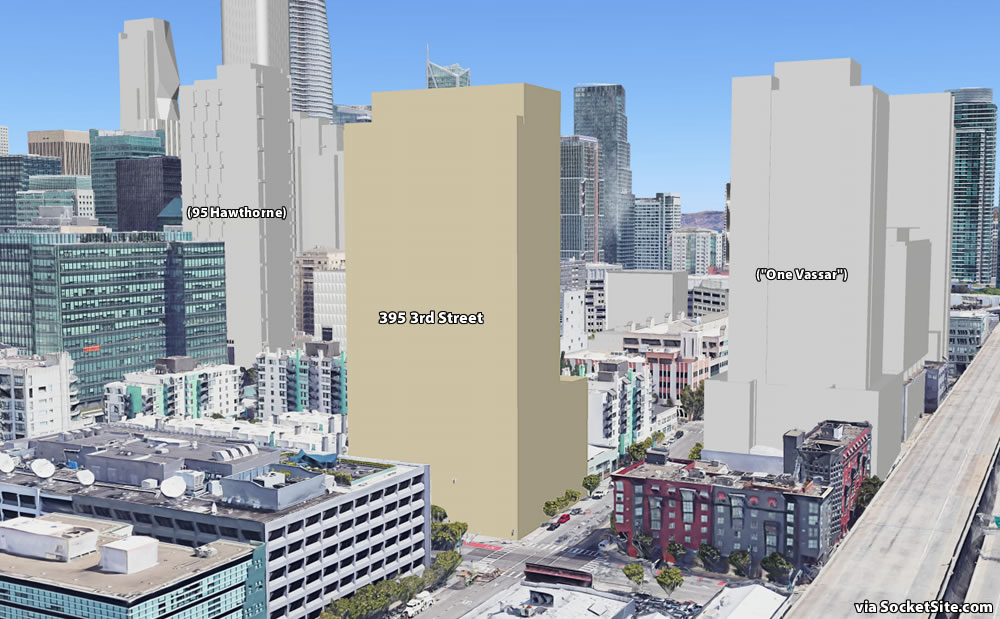 While Planning's preliminary review of the project did raise a few design considerations and minor modifications that may be required for compliance, the project was found to be "generally consistent" with the overarching objectives of the City's Central SoMa Plan. And Strada's formal application to move forward with the development was just filed with the city.
We'll keep you posted and plugged-in.