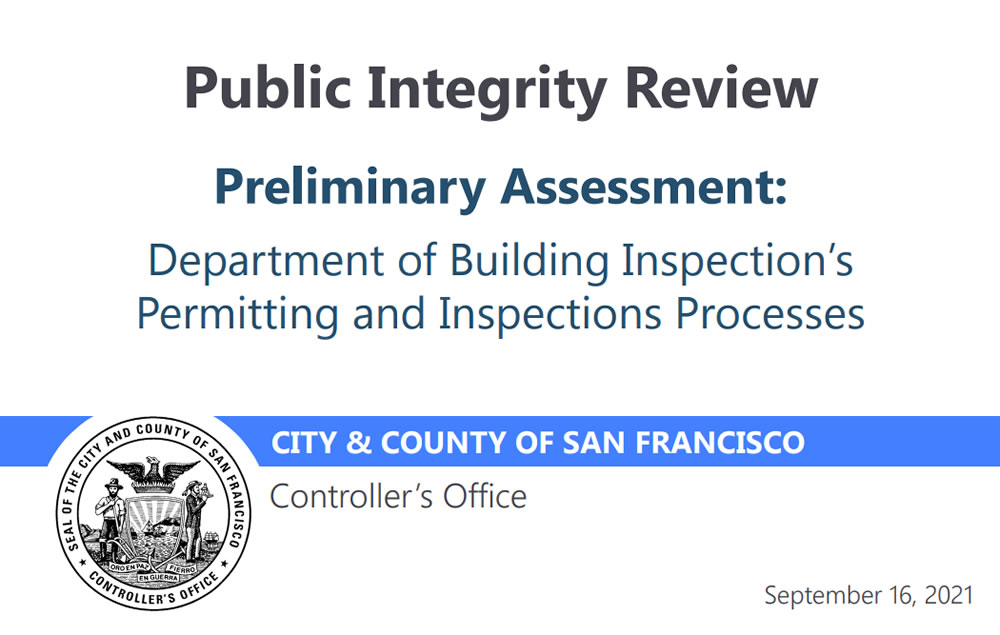 Having completed a "Public Integrity Review" of the Department of Building Inspection's (DBI's) permitting and inspection processes, driven by a need to root out departmental fraud and a history of inappropriate activities, the Controller's Office of San Francisco has identified the following weaknesses in the DBI's systems, processes and controls:
1. The department's permitting and inspection system lacks system controls to ensure completed data is entered into the system and to prevent inappropriate after-the-fact changes to recorded inspection records. Other review and inspection milestones and policies to manage such changes are uneven and inadequately monitored.
2. The department does not make use of available data to track, monitor, and investigate certain "red flag" activities, such as out-of-area inspections, inappropriately expedited review of project plans, or approvals by those without proper authorization to do so.
3. Review and investigation of complaints or higher-risk activities is not standardized across the department, and in some cases inappropriately assigned to units to review their own initially-performed work.
4. Financial penalties for non-compliance with code appear in some cases too low and do not provide an adequate incentive to adhere to City-established requirements.
5. These internal control weaknesses, combined with a pattern of poor ethical management under the former director, [Tom Hui,] sustained a negative "tone at the top" during his tenure.
And in terms of the Office's preliminary recommendations for departmental reform, "to prevent nepotism, cronyism, and corruption in the future":
1. Foster an ethical organizational culture by ensuring there is an ethical tone at the top and by promoting adherence to ethics disclosure and conduct laws.
2. Create a strong reporting and compliance program to identify risks and ensure consistent enforcement of its robust ethical rules and policies.
3. Ensure public transparency, consistency, and adequate internal controls in the recording and modification of data in its records.
4. Use existing data to conduct monitoring that will help identify fraud and abuse risks.
5. Consider requiring plan reviewers and inspectors to certify compliance with city conflict-of-interest rules to deter bribery, nepotism, and favoritism.
6. Provide more public outreach and education on its internal permitting and inspection requirements and processes to help the public identify proper and improper practices when they interact with the department.
In addition, a review of the fees and penalties the department is authorized to levy for noncompliant construction has been recommended as well, "to determine whether they are severe enough to effectively deter misconduct" or need to be increased, particularly with respect to the minor penalty for unpermitted work that's deemed to have "exceeded the scope of an approved permit" versus simply having been unpermitted. We'll keep you posted and plugged-in.