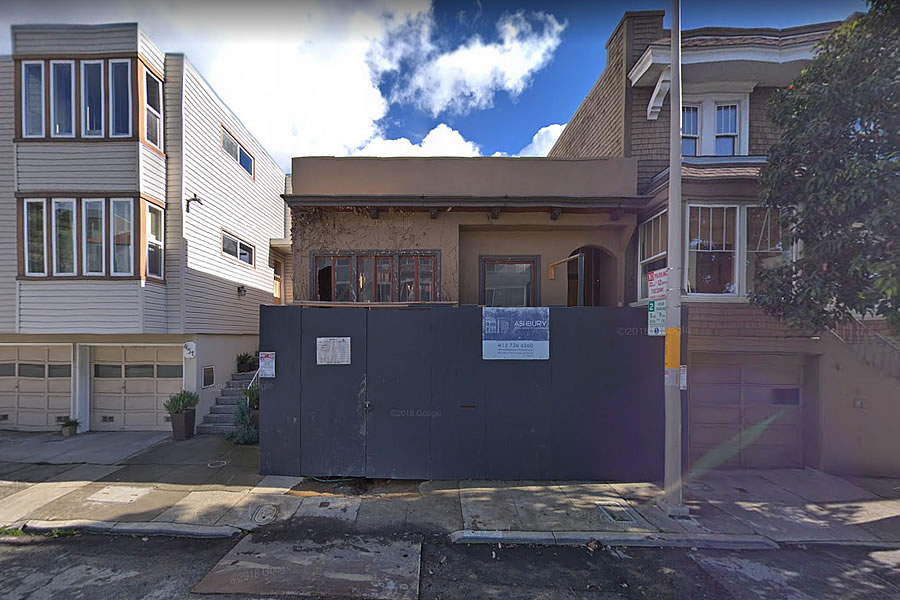 As we first reported back in 2018:
San Francisco's City Attorney, Dennis Herrera, has just filed suit against construction engineering firm Santos & Urrutia Associates, its principals and several clients and contractors over "an elaborate scheme" to excavate and expand under multiple San Francisco homes without securing proper permits and employing forged documents, lies and fake plans to trick inspectors and City agencies.

Rodrigo Santos, the firm's chief financial officer, is a former president of the Building Inspection Commission. Albert Urrutia, the firm's chief executive officer, has sat on the City College Board of Trustees and the City's Workforce Investment Board. And according to the complaint, "Santos' and Urrutia's decades of experience and familiarity with the Department of Building Inspection was used to circumvent regulation and oversight by that department and the Planning Department."

The lawsuit, which is tied to three San Francisco properties in specific (147 Marietta Drive, 601A Fell Street and 457 Roosevelt Way, which is pictured above) also names the contractors that performed the un-permitted work and the property owners as defendants.
And with a separate criminal investigation into San Francisco's former Director of Public Works, Mohammed Nuru, now picking up steam, the charges against Santos have been (legally) expanded as well and now include an additional six properties (see below) and allegations that the former Building Inspection Commission President and his firm stole more than $420,000 from clients by way of a check fraud scheme.
From the City Attorney's office:
"The check fraud plot involved Santos requesting partially filled out checks from clients, which were signed and made payable to City departments but with the dollar amount blank. Instead of providing these checks to the payee City departments, as Santos had promised his clients, Santos would instead write in a concocted dollar amount, forge the endorsement of the payee City department and then deposit the checks in his personal checking account. Occasionally Santos would instead change the payee name on the check to his own, misspelled name. For example, he would change "DBI" to "RODBIGO SANTOS" and then deposit the check in his account. The fraud involved more than 200 checks over a three year period."
In addition to the aforementioned three homes, allegations of permit fraud now include the following six properties as well (and a new defendant): 107 Marietta Drive, 1672-1674 Great Highway, 1740 Jones Street, 1945 Green Street, 2030 Vallejo Street and 2050 Jefferson Street.
"At three homes, 147 Marietta Drive, 601A Fell Street and 457 Roosevelt Way, the property owners hired Santos & Urrutia to assist in adding lower floors to their homes by digging below the existing foundation. These types of excavations require extensive regulatory oversight to ensure they're done safely.

However, the defendants in this case misrepresented the work they planned to do as uncomplicated construction, like remodeling a bathroom or kitchen. They quickly obtained over-the-counter building permits for simple construction and then did major excavations far beyond the scope of those permits or without permits at all. They also failed to notify adjacent property owners of the excavations as required by law."

"The defendants used another tactic at four homes, including 107 Marietta Drive, 147 Marietta Drive, 1945 Green Street and 1740 Jones Street. At these properties, defendants fraudulently used the identity of licensed contractors and misappropriated these contractors' specialized California Occupational Safety and Health Administration excavation permits to pretend that qualified contractors were actually working at the properties when they were not."
And at seven of the nine properties (107 Marietta Drive, 147 Marietta Drive, 1945 Green Street, 2030 Vallejo Street, 1740 Jones Street, 1672-1674 Great Highway and 2050 Jefferson Street), Peter Schurman, an engineering technician who has been added as a defendant in the amended complaint, forged civil engineer stamps and signatures on falsified special inspection reports, reports which were then submitted to the Department of Building Inspection instead of hiring special inspectors to actually complete the work.
In addition to penalties and restitution (which "could be millions of dollars"), Herrera is seeking a court order requiring any code violations at the properties to be fixed and to have all work to which the defendants are tied be disclosed to the City for further investigation.