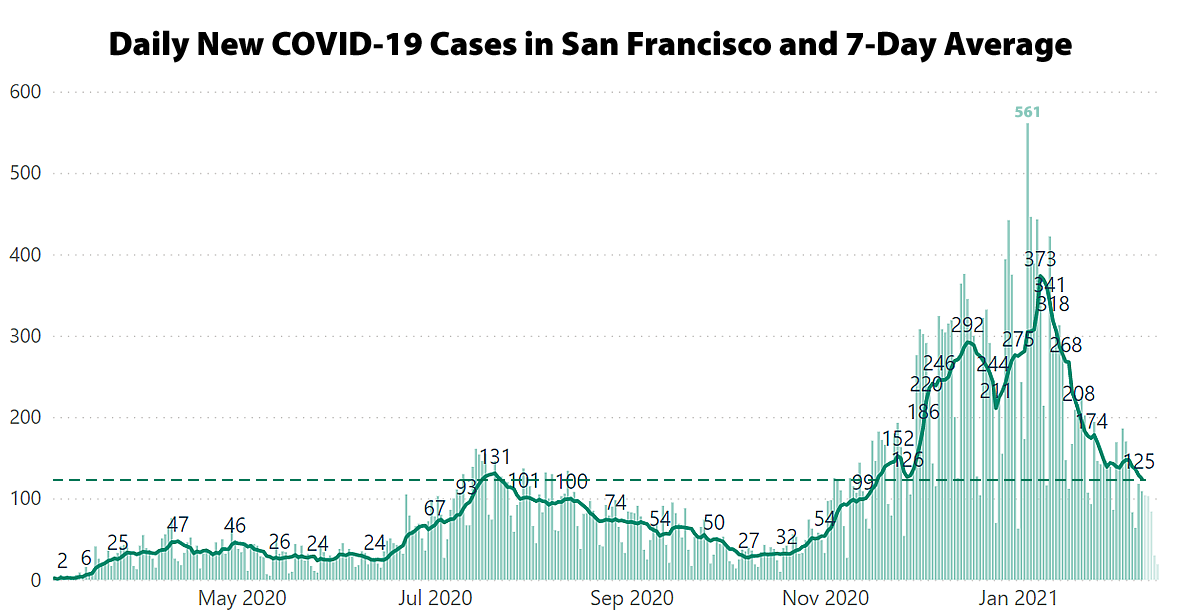 Having hit a revised pandemic high of 373 on January 8, the 7-day average number of daily new COVID-19 cases diagnosed in San Francisco has dropped to 125, which is the lowest 7-day average since mid-November, 2020, and just below the local peak rate in July, with a percent positive rate for those who are tested having dropped to around 2.5 percent.

At the same time, local hospitalizations have dropped as well, but there are still around 120 local hospital beds occupied by COVID-19 patients and at least 37 people in an ICU.
And with the adjusted average COVID-19 case rate for San Francisco, which takes into account testing rates, having dropped to 8.9 new cases per 100,000 residents per day, the city is closing in on the breakpoint between the State's "Purple" and "Red" tiers of risk, which will allow for more business reopenings and other activities when the adjusted daily case rate drops to 7.0 per the State's Blueprint for a Safer Economy and then again when the adjusted case rate drops to 4.0.
UPDATE (2/18): And in terms of when San Francisco could drop to the less restrictive Red tier, the adjusted case rate for San Francisco should drop below 7.0 within the next 5 days if the underlying case rate and testing trends hold.
UPDATE (2/19): Based on our projections, San Francisco should qualify for "Red" tier status this weekend.
UPDATE (2/23): San Francisco Officially Qualifies for "Red" Tier Assignment.
So keep it up (and down).