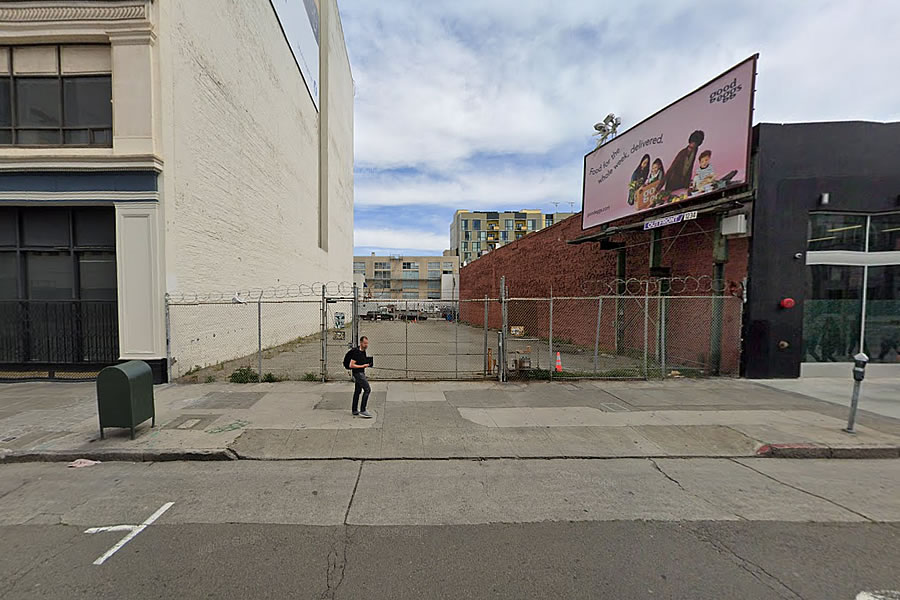 As with the fenced corner parcel at 7th and Brannan, the Mayor's Office of Housing and Community Development is now seeking proposals for a self-sustaining "interim use" of the underdeveloped 8,777-square-foot parcel at 967 Mission Street, between 6th and Mary, down in SoMa.
It was back in 2015 that the deeding of the lot to the City was negotiated for the development of affordable housing and to help fulfill the inclusionary housing requirements for the 5M mega-project that has now broken ground.  And with the transfer of the site expected to occur buy the end of October, and the affordable housing development process for the parcel, which hasn't begun, expected to take several years, "the City plans to create a temporary interim use for the site until the affordable housing can be built."
According to the RFP, the City is seeking a proposal "that will be financially self-sufficient," with a guaranteed term of up to two years, possible lease extensions on a month to month basis and a preference for a use that supports "the SOMA Pilipinas Cultural District goals."
Qualified responses are due on September 13 and a winning proposal is expected to be selected by mid-October. And once again, we're not going to set the official over/under for demands that the plans for the embattled Navigation Center along the city's waterfront be moved to the 967 Mission Street site, but we'll keep you posted and plugged-in.