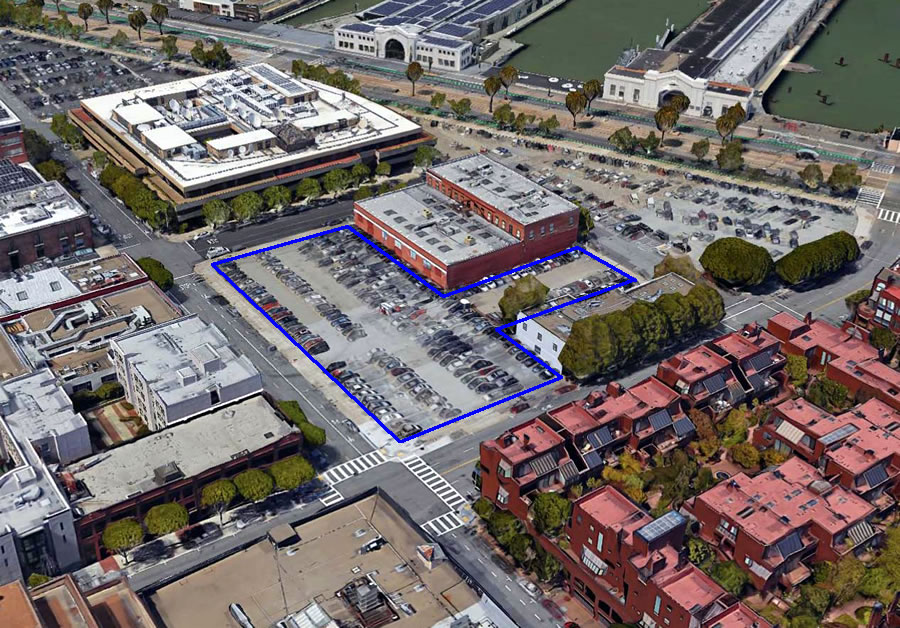 Having identified the parking lot parcels fronting Front and Davis Streets, between Broadway and Vallejo, as "the greatest affordable housing development opportunity among the [Port of San Francisco's] seawall lots in the northeastern waterfront," the Port began drafting a solicitation for developers of the former Embarcadero Freeway site back in 2014, as we first reported at the time.
At the same time, local Dwellers began drafting challenges as to just how affordable, and subsequently tall, any development on the site should be allowed to be, couched as concern for "the nature and character of the Northeast Waterfront Historic District."
As designed by Leddy Maytum Stacy Architects for The John Stewart Company and Bridge Housing, whom were awarded the development rights for the 88 Broadway/735 Davis Street site back in 2016, the development will yield a total of 178 below market rate apartments, including 53 units for seniors in the 735 Davis Street building, rising up to 65-feet in height and priced to be affordable to households earning from 30 to 120 percent of the Area Median Income (AMI).
And having survived an appeal last year, the ground for the development was formally broken yesterday, which should yield a finished project in mid-2021.