In the works since 2016, the proposed four-story building to rise up to 40 feet in height upon the underdeveloped Duboce Triangle parking lot parcels at 55 Belcher Street, behind the former Blockbuster turned gym at 158 Church Street, was designed to yield a total of 24 residential units, three (3) of which would have been required to have been offered at below market rates (BMR) versus five (5) below market rate units had the total unit count of the building been 25.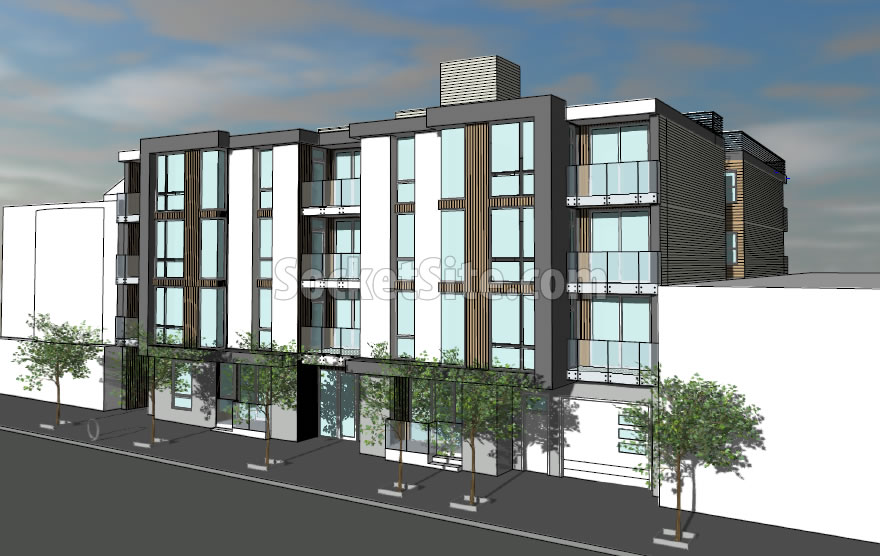 Facing neighborhood pushback along with Planning's "concern," the building has been redesigned to yield 25 units, five (5) of which will be rented at below market rates if the project is approved, along with a garage for 12 cars (which is up from 10) and 25 bikes.
In addition, the proposed building's façade has been revised "to be less bi-laterally symmetrically and less monolithic…to better relate to the pattern of building frontage widths within the surrounding neighborhood," as newly rendered by SIA Consulting below:
And while "interested parties" have requested a continuance of the public hearing for the project "to allow further time for review," the project team is electing to push ahead with a hearing next week and Planning's recommendation that the development be approved as proposed, having found that the project is not only "consistent with the Market & Octavia Area Plan and the Objectives and Policies of the [City's] General Plan," but "necessary, desirable, and compatible with the surrounding neighborhood."
We'll keep you posted and plugged-in.