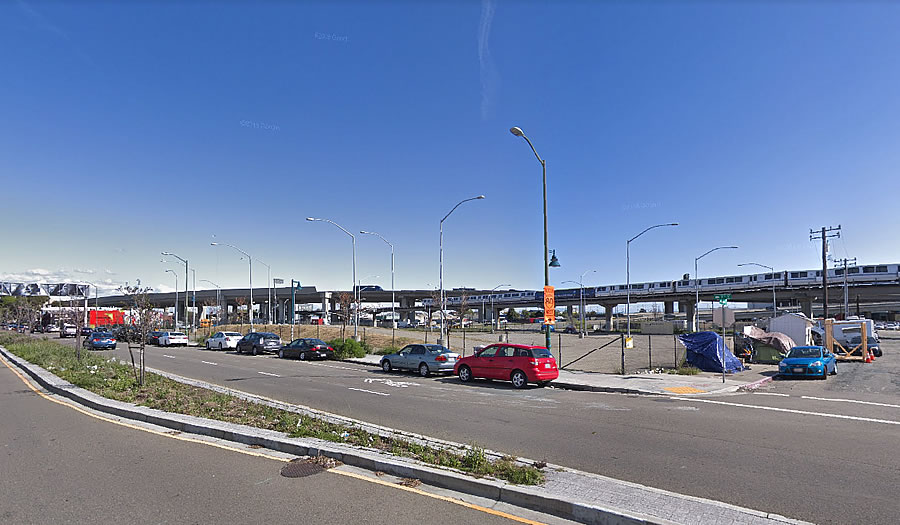 Facing pushback from Oakland's Planning Department with respect to the "monotonous and bulky massing" of the proposed 1,032-unit "Hub" development to rise up to 23 stories in height upon the 3-acre Caltrans lot across from The Crucible and a block from the West Oakland BART station, and that the project was "not [designed] to provide an inviting site plan with a rich public-private interface," the plans for the 500 Kirkham Street project had been revised by Panoramic Interests and Lowney Architecture earlier this year.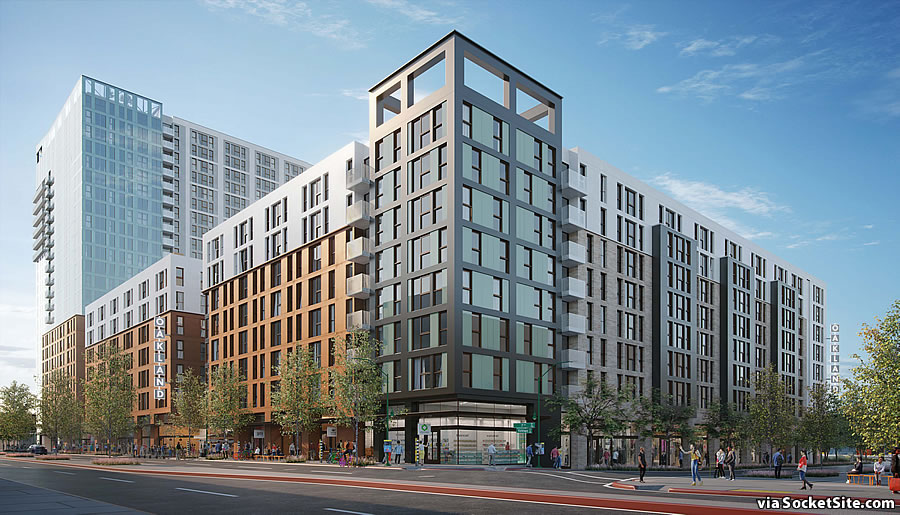 The high-rise portion of the development had been redesigned, with new colors, finishes and an integrated metal screen element and angled crown. And while the mass of the two mid-rise buildings had mostly remained the same, new windows, finishes and semi-recessed balconies had been added along with additional roof-top open space and a design element at the corner of Kirkham and 7th Street.
And as we first reported at the time:
According to the Planning Department's initial review of the revised plans…while the revisions "are an improvement," the department's staff believes that "further development is needed to break up the massing of the buildings," and that revisions to the high-rise "do not quite reflect the intent for creating a design quality building for this prominent site."

[And a]s such, while the Department's staff "can entertain and support the mid-rise buildings" with specific recommendations for additional refinements, their support for the high-rise would require "further design review."
Tomorrow, Oakland's Design Review Committee will be presented with a further refined design for the development, as newly rendered below, with wider sidewalks and pathways, larger windows and an angled far corner element atop the high-rise but a now "featureless" building at the corner of 7th and Kirkham:
From the City's Planning Department with respect to the refined plans: "The Proposed project has made significant efforts to improve the design as recommended by staff and the Design Review Committee. However, staff believes that there is still some more development to be made that would result with a final project that delivers a quality design."
As such, the Department is recommending that the project team continue to develop the project's design, including the inclusion of a "stronger design feature" on the aforementioned corner, and submit a re-revised set of plans following the Committee's review and commenting.
And in terms of the proposed number of off-street parking spaces for all of the development's future residents, which has been of ongoing concern to the neighborhood and existing residents, said number has increased from zero (0) to 59 (versus a minimum of 361 as required by Code, which the project team is planning to get waived by way of a Density Bonus concession).