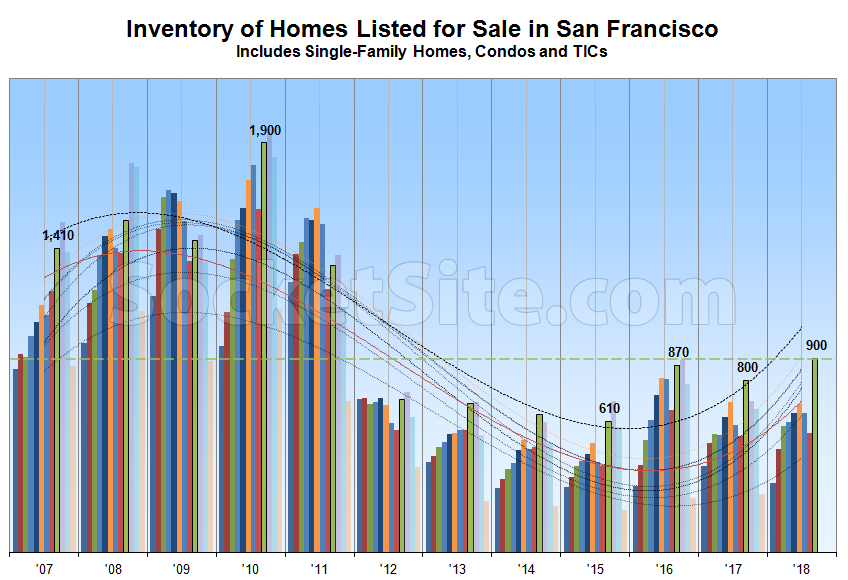 Following a trend which shouldn't catch any plugged-in readers by surprise, the number of homes actively listed for sale in the San Francisco (900) has just hit a 7-year high and is now running 12 percent higher on a year-over-year basis and 30 percent above its mark at the same time in 2015 (690), the year which remains an inflection point for the current cycle.
At a more granular level, the number of single-family homes currently listed for sale in the city (360) is now running 34 percent higher versus the same time last year while the number of listed condominiums (540) is up 1 percent, not including the vast majority of new construction condos for sale across the city, the inventory of which has been hovering around 500.
In terms of pricing and expectations, 14 percent of the active listings in San Francisco have undergone at least one price reduction, which is even with the same time last year, while 34 percent of the homes on the market are currently listed for under a million dollars, which is even on a year-over-year basis as well.
If typical patterns hold, expect inventory levels to continue to climb through the end of September or mid-October. And once again, keep in mind that recorded home sales in San Francisco dropped to a seven-year seasonal low in July.