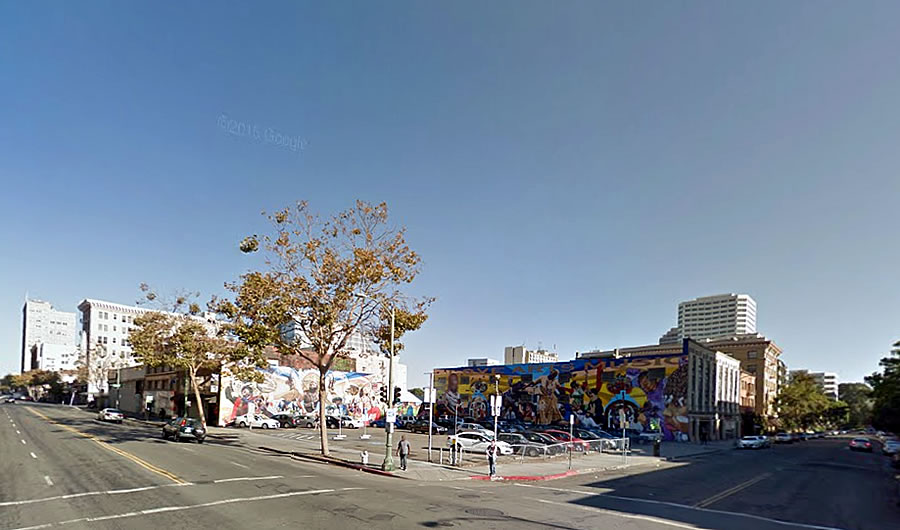 While approved for a 16-story tower with 126 apartments over 3,200 square feet of retail space and a podium garage for 81 cars to rise up to 175 feet in height upon the Lake Merritt Station Area parking lot parcels at the corner of Alice and 14th Streets last year, the controversial 250 14th Street (a.k.a. 1429 Alice Street) project has yet to break ground.
And Golden Stone Investment Corp, the owners for the 250 14th Street parcel, are now pushing forward with plans for a 6-story building to rise up to 85 feet in height across the site, a plan which would yield a total of 79 apartments over a ground floor of retail space, the revised designs for which will soon be presented to the City for review.
Keep in mind that plans for a 35-story tower with nearly 200 condos had been proposed to rise upon the corner site prior to the Great Recession but were subsequently abandoned.
And yes, a shorter development will still result in the loss of the "Love Arts Music" mural which has adorned buildings on two sides of the project site since 2014. But as Oakland's Planning Department opined last year, "murals are temporary art pieces and…development should not be limited due to their presence because it could negatively impact future allowances for murals to be installed due to concerns of property owners losing their development rights."