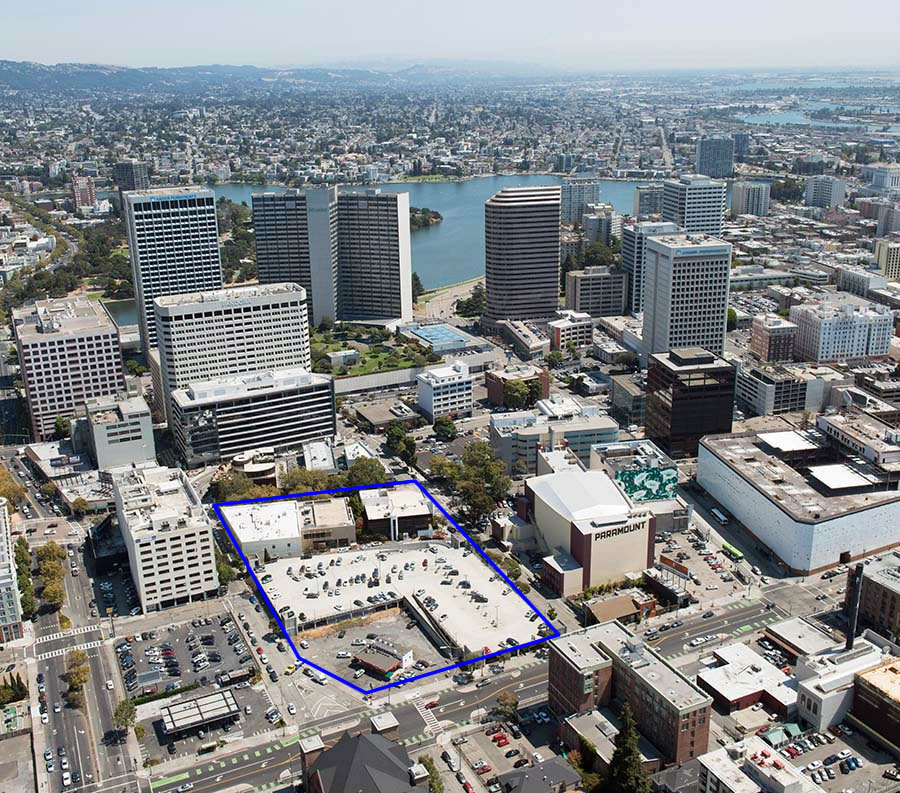 As proposed, the entire Uptown Oakland block bounded by Telegraph, Broadway, 21st and 22nd Streets will be razed and a 1.35-million square foot development will rise across the 3-acre site which includes the former Giant Burgers parcel at the corner of Telegraph and 22nd, the adjacent Telegraph Plaza Parking Garage, and three buildings fronting 2101-2147 Broadway.
While the site is zoned to support the development of up to 1,556 residential units or 2.8 million square feet of office space, the development team, which is a partnership between Lane Partners and Strategic Urban Development Alliance (SUDA), is pursuing a mixed-use development dubbed "Eastline" (a.k.a. 2100 Telegraph) which would yield 880,000 square feet of large-floor-plate (i.e., tech) office space, enough for over 4,500 worker bees; a tower with roughly 400 residential units; and 85,000 square feet of street-level retail space.
As BART runs directly below the site, the development will have to be designed to avoid placing weight or lateral stresses on the tunnels. And as the existing public parking garage on the site "provides parking that is vital to Uptown District businesses and the operations of the Paramount and Fox Theaters," the development is expected to include a four-level replacement garage for both public and private use.
And as of this morning, the preparation of the Draft Environmental Impact Report (EIR) for the Eastline project is officially underway and the first public hearing has been scheduled for December 12.