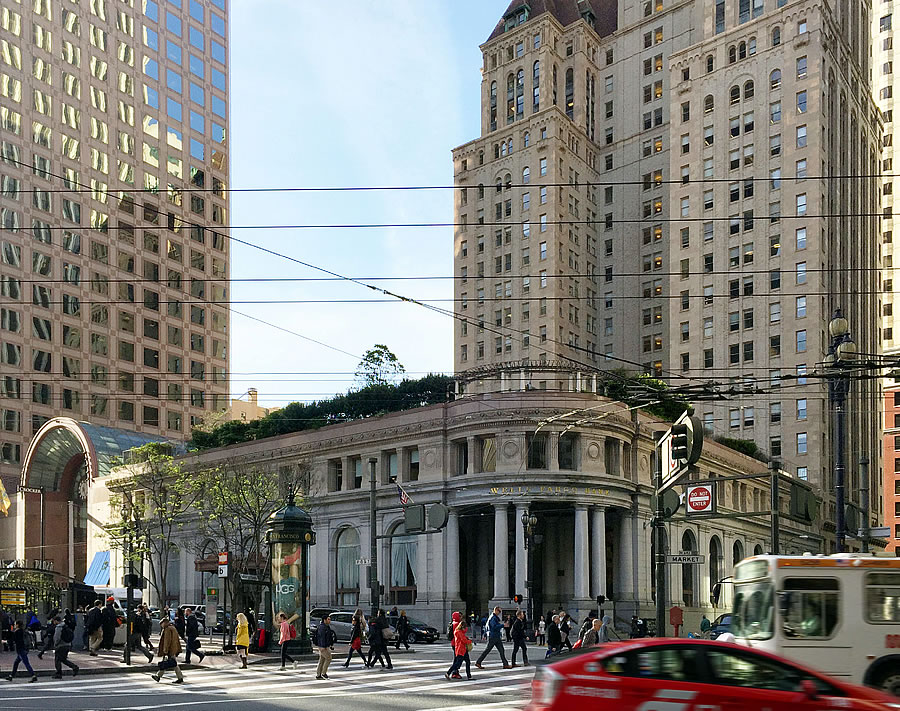 San Francisco's Planning Department has just finished its preliminary review of the proposed plans for a 500-foot tower to rise atop the iconic Crocker Bank Building at 1 Montgomery Street, a site which is theoretically zoned for development up to 250 feet in height. And in short, the Department is not a fan.
From yesterday's letter to the development team:
"The Planning Department does not support increasing the height to 500 feet. The Planning Department does not support the loss of privately owned publicly accessible open space (POPOS) [atop the bank building], nor a qualitative diminishment of the existing POPOS. The project should demonstrate how the POPOS is enlarged and enhanced qualitatively to meet square footage requirements. New shadows cast on public plazas, parks or open space are likewise discouraged. Demolition of the historic resource and/or features is not supported. The Department recommends a code-complying proposal and encourages sustainable design."
That being said, Planning also notes:
"In previous eras of city building, the height of new development within an area might be expected to vary considerably. The pressure to maximize development on a site was not as significant a factor then. Under such conditions, extended areas with the same height limit did not pose any city form problems. A natural variety of heights resulted in a complex, interesting city form.

There is now, however, an increasing tendency to build to the height limit, particularly in height districts lower than 400 feet. When many buildings are constructed at the height limits, a visible lining up of building tops occurs. This phenomenon called benching causes an awkward city form.

To avoid this benching effect, narrower height districts of varied height and mechanisms which allow greater height for more slender buildings should be created. Height limits should be structured so as to allow the presence of new buildings to affect the existing skyline in a positive way, softening existing "benching," and providing more variety and interest in the skyline and general view of the city."
The proposed 1 Montgomery Street tower, for which the site would have to be legislatively re-zoned, would either become a 234-room hotel, a 52-unit condo building (with one five-bedroom unit on each of the top five floors and 47 three-bedrooms below), or a mix of the two. We'll keep you posted and plugged-in.