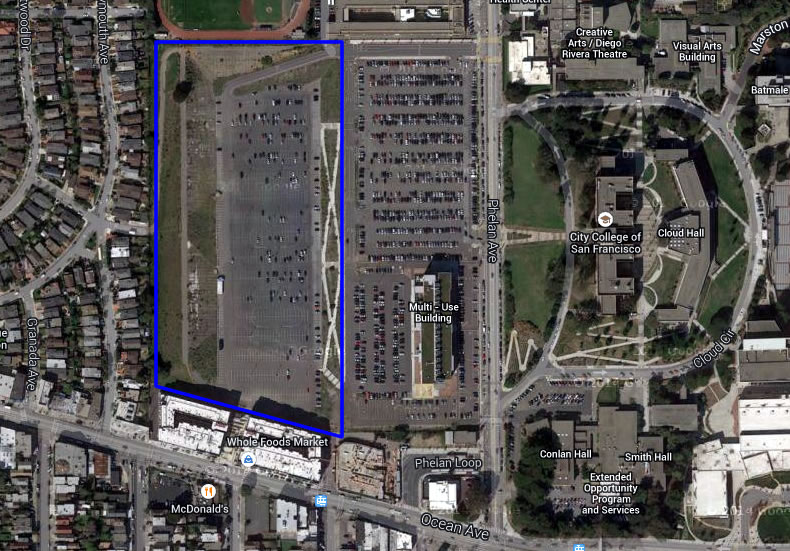 The City of San Francisco has just issued an official Request for Qualifications (RFQ) and concepts from development teams interested in buying, designing, entitling and developing the western 17 acres of the Balboa Reservoir site which is currently a 1,000-space parking lot under the jurisdiction of the San Francisco Public Utilities Commission.
While nothing has been set in stone, and the land – which is currently designated for "Public" use and development of no more than 40 feet in height – will need to be rezoned, based on years of community input and planning, the rough parameters and expectations for the site have been outlined as follows:
Building heights of 25 to 65 feet,
At least 50% of all proposed housing to be designated as permanently affordable to low, moderate and middle-income households with incomes of 55 to 150 percent of the Area Median, and
At least 4 acres of new parks and open space
In addition, the teams will be expected to collaborate with City College, which borders the property, "in areas such as parking and transportation, housing, and childcare," with an emphasis on transportation demand and congestion management.
Responses to the RFQ are due on January 18, 2017, finalists are slated to be announced on February 17, and the remaining teams will then be invited to submit detailed proposals for the land.
The detailed proposals will be presented to community stakeholders for public comment and evaluated by a panel to select the development team with which the City will then enter into negotiations.
The Balboa Park Reservoir, which represents one of the largest underdeveloped sites in the city, was built in the 1950's, has never held a drop of water and is one of San Francisco's Public Lands for Housing sites identified for priority redevelopment.