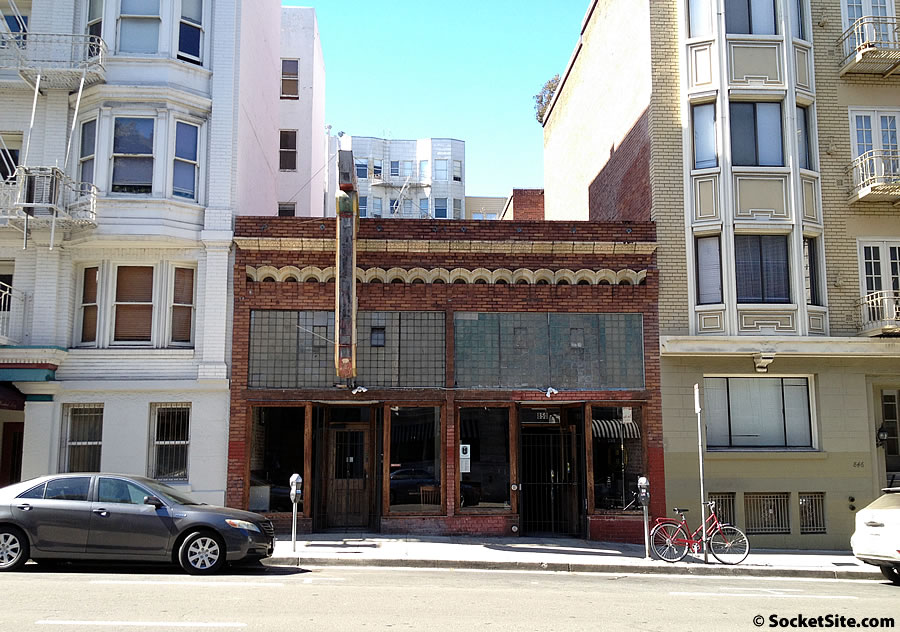 San Francisco's Planning Department has finished its preliminary review of the proposed plans for adding five new floors and twenty one-bedroom apartments atop the historic Key Klub building at 850 Bush Street which is located within the Lower Nob Hill National Register Historic District and is currently home to Hopwater Distribution.
From Planning:
"Due to the subject property's historic status, the Department requests that the project provide a more substantial setback of the five-story addition from the existing one-story commercial building at the front property line. The addition should read as a separate building, not complete the streetwall and be compatibly designed (materials, fenestration, etc.) with the Historic District."
And in fact, "the Department may request a setback of up to 35′ from the front property line."
In addition, while the proposed design for the addition touted "vertical steel guardrails at projecting balconies [to] create a visual tie-in with the pattern of fire-escape balconies," as "fire escapes and balconies are not character-defining features within the Lower Nob Hill NRHD, the Planning Department recommends that the project instead explore the inclusion of bay windows," feedback that a number of plugged-in readers saw coming.