Entitled the "Build More Housing Initiative," the paperwork for a proposed ballot measure which would establish a new "Housing and Inequality Task Force" was filed with San Francisco's Department of Elections this morning.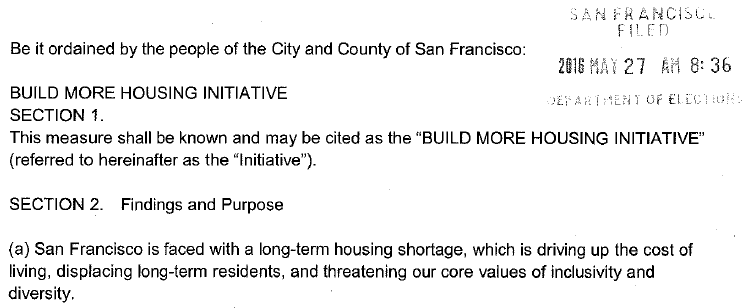 As drafted, the Mayoral task force would be required to create and publish "a comprehensive plan to grow the affordable housing stock in San Francisco" within six months, with a specific focus on ending all density limits, enacting "use by right" zoning (i.e., as of right development) for all areas of the city, establishing a minimum height for all new dwellings in every neighborhood of "no less than 35 feet," and any other policies that would allow the city to build "at least 100,000 units every 10 years for the next 50 years."
But the recommendations of the task force wouldn't be binding nor require the Mayor, Board of Supervisors or any other government entity or department to endorse nor act on any part of the plan.
The sponsor of the proposed measure appears to be a local journalist named Gregory Ferenstein.
There are currently a record 63,400 apartments and condos in San Francisco's housing pipeline.  And nearly as many development related initiatives in the works for the November ballot.