The detailed concept design and schematic for the New Presidio Parklands Project, which will connect the Presidio's historic core to Crissy Field and the San Francisco Bay for the first time in over eighty years, was released last month.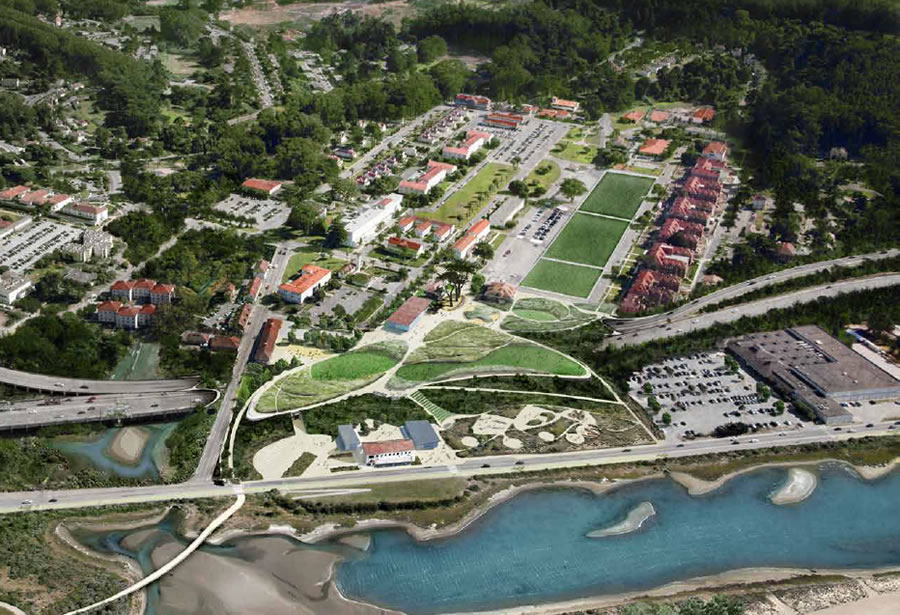 From James Corner Field Operations, the lead architects of the 14-acre project:
With the creation of this new park on the tunnel-tops, the view from the Main Parade is now fully open and unobstructed. A series of lush gardens and meadows extend from the northern end of the Main Parade, and are punctuated with pathways for strolling and intimate nooks for seating and small gatherings.
The plan also shows an extension of the Anza Esplanade, connecting the Presidio hills and the Main Post to a "Central Overlook", a central viewing and gathering point from which to experience the magnificent views to the Golden Gate Bridge, the Bay, the Marsh, and the City. A new "Zocalo" functions as a main social and multi-functional arrival and gathering plaza between the Transit Center and the Visitor Center, and makes a central feature of the existing Monterey Cypress trees.
The existing observation post will be demolished and a new observation post at the eastern boundary of the project is being studied. A new "Cliff-Walk" wraps the edge of the embankment and connects visitors to the many points of prospect, views and connections to the wider landscape. The Bluff Walk connects down to the Learning Landscape, which includes a renovated Crissy Field Center and a new "Field Station."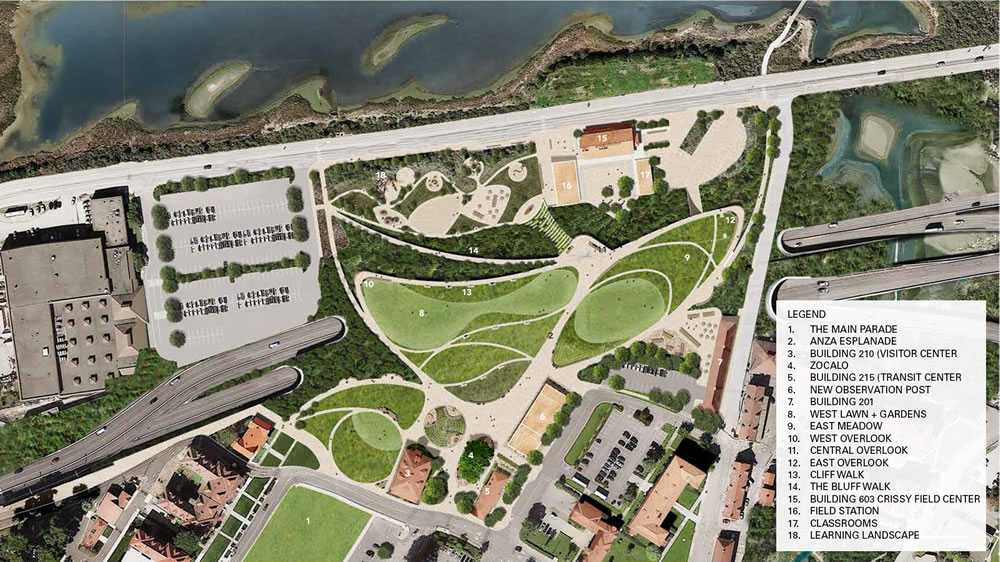 The concept design for the New Presidio Parklands Project will be refined over the next year, with construction slated to commence in the fall of 2016 and be completed in 2018.
A tip of our hats to the veterans who either served or are buried in the Presidio, and to all our veterans, past and present, around the world.