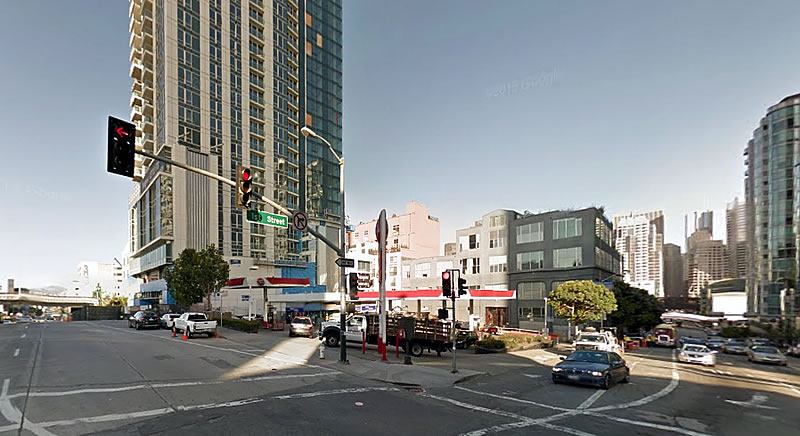 The official application to raze the Union 76 gas station on the northwest corner of First and Harrison and build a 14-story building, with 180 apartments over a garage for 84 cars and a small 600-square-foot café has been submitted to Planning for review.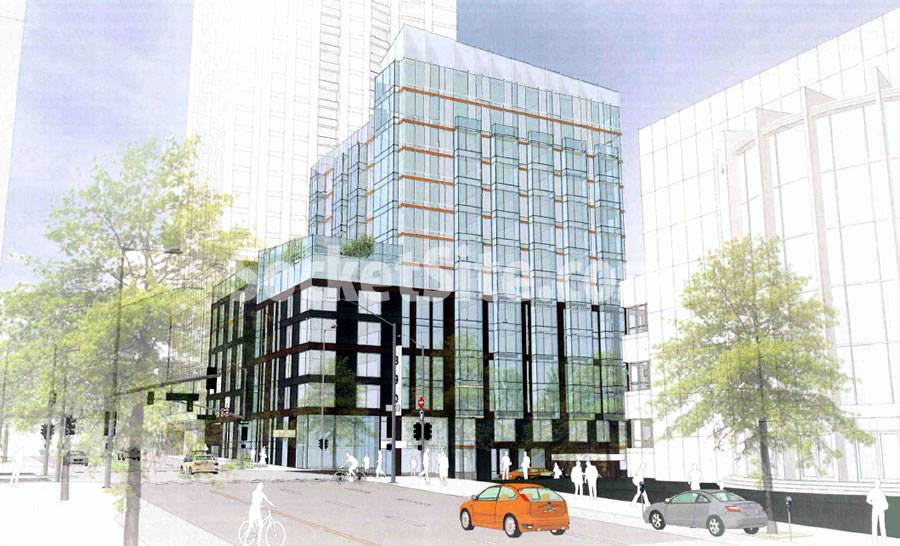 From the development team for the project which would prominently sit "at a key intersection in the rapidly redeveloping Rincon Hill neighborhood of San Francisco":
"Most of the building faces the wider, prominent First and Harrison Streets, a zone allowing taller height.  The Lansing Street frontage faces the narrow pedestrian/auto "shared street," with a smaller scale residential focus.

The proposed building expresses these two zones with a light glassy 14 story tower element at First Street, and a stepped 5 to 7 story podium fronting Lansing, Harrison and First Streets. The base element employs projecting bay windows, balconies, and private stoops to further scale the building in a manner sympathetic to traditional San Francisco residential architecture."
In addition to the apartments and corner cafe, the plans for the building includes multiple roof decks with views of downtown, the Bay, and Bay Bridge.
And as proposed, the 180 apartments would be a mix of 16 micro units, 34 studios, 58 one-bedrooms, 61 two-bedrooms, and 11 three-bedrooms.
A meeting with neighbors to unveil the plans above is scheduled for next week.