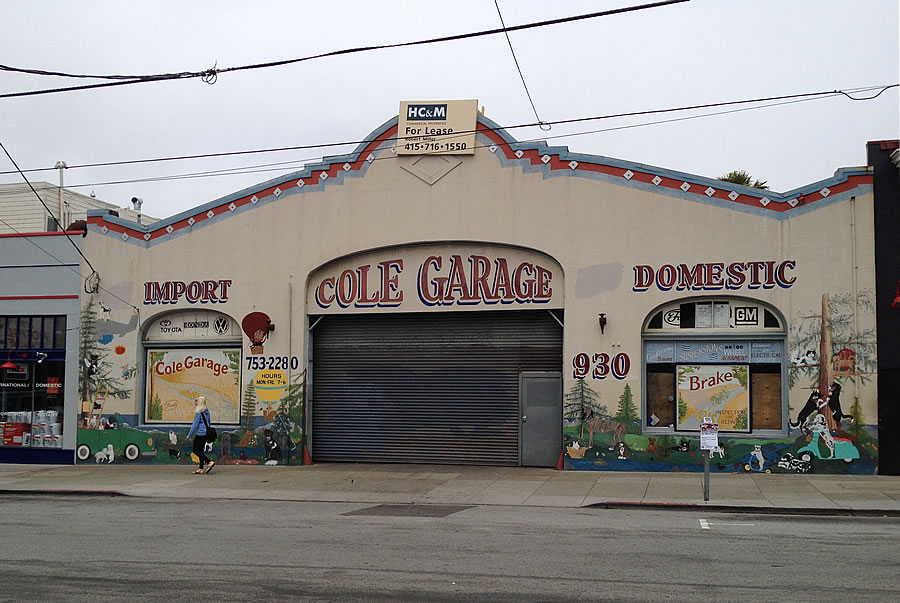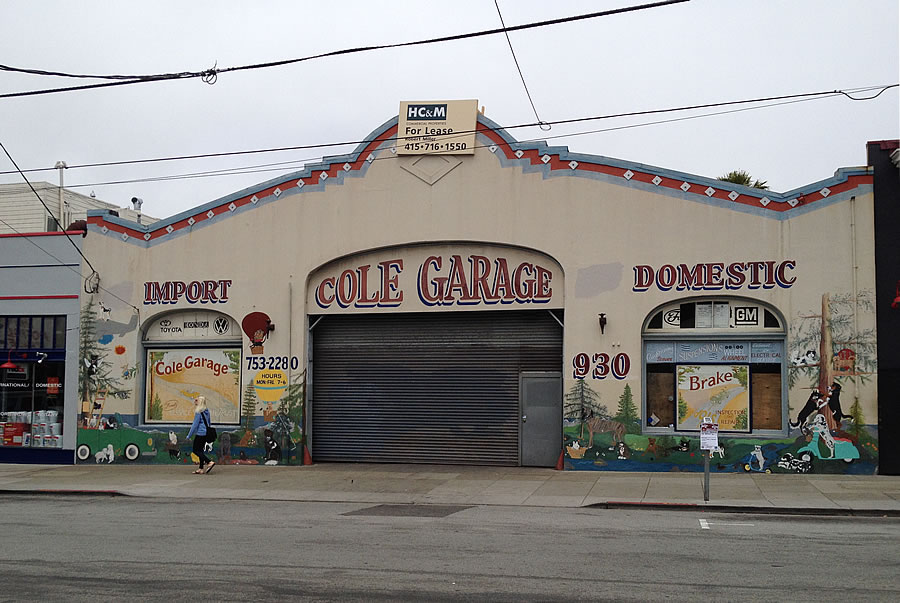 A rent increase has claimed the iconic Cole Garage, the most recent operators of which had been there for 25 years.  And while a new lease for the nearly 10,000-square-foot space adjacent to Cole Hardware has yet to be inked, the building owners have been in talks with a private elementary school to renovate and occupy the building.  And it's a plan which the Cole Valley Improvement Association is preemptively opposing.
From the President of the Cole Valley Improvement Association to San Francisco's Planning Director ten days ago:
On behalf of the 500 members of the Cole Valley Improvement Association (CVIA), I am writing to express concern over recent information that the owners of the Cole Garage, doing business as "930 Cole Street Associates, LP,' have been in lease discussions with Altschool, a private elementary school. Altschool is not, nor is any other school, the right fit for this large space in Cole Valley's very small commercial corridor.

CVIA strongly opposes any use of 930 Cole Street that 1) does not serve neighborhood residents, 2) does not conform to the neighborhood character of the corridor or, 3) hinders the highly used public transit system (four different Muni lines), which is already compromised by double parking and commercial deliveries. This location is critical to the present and future identity of this neighborhood shopping corridor and any noncommercial use of this site could easily have a tragic impact on the soul of Cole Valley.

Make no mistake, the Cole Valley Improvement Association supports the development of 930 Cole, but because the site is such an important part of the community, urges the Planning Department to consider the impact of this project on the commercial vitality of this pedestrian-oriented neighborhood.
The owners of 930 Cole are seeking $2 per square foot for the space, and the landlords are not requiring the pet mural on the building's facade be protected as a term of any new lease.
UPDATE: An official update from AltSchool: "We had an initial meeting with the city a few weeks ago and after further exploration, we have decided not to pursue the location at 930 Cole."