The Planning Commission's approval of the proposed 420-unit building to rise up to 13-stories at 150 Van Ness, stretching from Van Ness to Polk along Hayes, was appealed and could be overturned.
As designed by Solomon Cordwell Buenz for the Emerald Fund, the first two floors of the 150 Van Ness project would cover over 80 percent of its five-parcel site, exceeding the lot coverage limit set by San Francisco's Planning Code.  The development was granted an exception from the code based on a ruling from San Francisco's Zoning Administrator, Scott Sanchez, that such an exception should be allowed.
Section 249.33(b)(5) of San Francisco's Planning Code, however, would appear to only permit lot coverage exceptions for conversions of existing non-residential structures, which the 150 Van Ness project is not.
From the Section in question:
"Lot coverage is limited to 80 percent at all residential levels except on levels in which all residential units face onto a public right-of-way. The unbuilt portion of the lot shall be open to the sky except for those obstructions permitted in yards per Section 136(c). Exceptions to the 20 percent open area may be granted pursuant to the procedures of Section 309 for conversions of existing non-residential structures where it is determined that provision of 20 percent open area would require partial demolition of the existing non-residential structure."
As such, the appellants argue that the lot coverage exception for 150 Van Ness was improperly granted and should be invalidated, the project's approval should be reversed, and the project should be required to be redesigned (see next paragraph and photo below).
At the heart of the appeal remains the proximity of the development to the LePort PreSchool which occupies the historic building at 50 Fell and abuts one of the parcels upon which the 150 Van Ness building would rise within six feet of the school and a number of its classroom windows: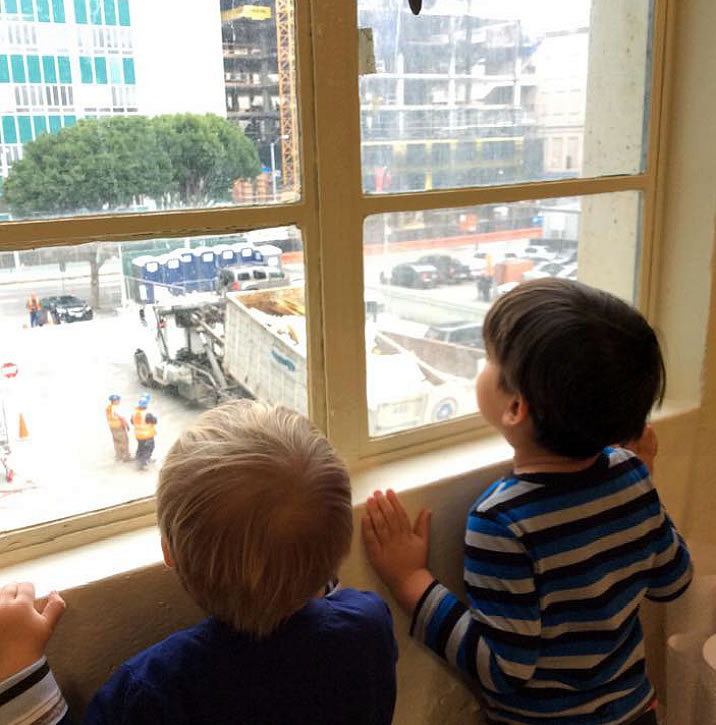 The full appeal and opposing brief filed on behalf of the Emerald Fund are slated to be heard by San Francisco's Board of Appeals at 5 pm today.
UPDATED UPDATE: While the appeal was technically granted as originally reported, the Board did NOT overturn the the project's approval but instead added a condition which requires the Emerald Fund to reconfigure the ground floor of the project to be code compliant, swapping the location of four units with the project's three 'hotel' rooms, but otherwise allowing the project to proceed as proposed.