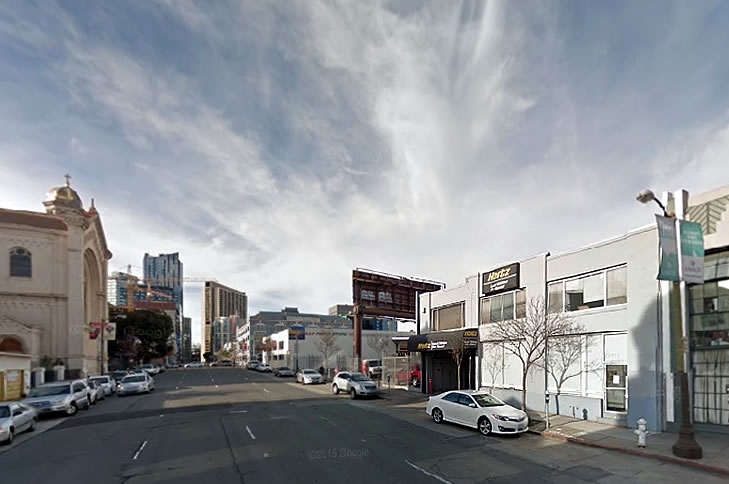 Plans to the raze the Hertz car-rental building at 241 10th Street, across the street from the Saint Joseph's Church project, are working their way through Planning.  And as proposed by JS Sullivan Development, a five-story building with 28 condos over 1,900-square-feet of commercial space and 17 off-street parking spaces will rise upon the Western SoMa site.
The environmental review for the project is pending, and a hearing to allow the proposed bay windows to vary in size from what's prescribed by San Francisco's Planning code will be held in a couple of weeks.
From the developer's application for the variance:
"The literal enforcement of the Planning Code permitting only prescribed limits on the spaces and width of bay windows and balconies presents a practical and esthetic (sic) difficulty for larger-scale, high density urban structures with a contemporary motif. The literal restriction of the code eliminate or reduce the opportunity for more creative façade designs and better-scaled articulation of projecting bay windows. The Planning Code, as applied, has roots in historic bay window designs characterized in older 19th Century Victorian architecture, inappropriate for modern designs.

The interior planning of smaller, tightly organized interior dwelling spaces for maximum density, resulted in a design approach that departs from the literal code while maintaining an equivalent area and combined width. Older structures in the neighborhood of various heights and constructed at different periods with different building systems, express the design integrity of another period. Thus, both historic and contemporary buildings should enjoy the same property right of design, provided the contextual expression of the neighborhood is maintained by the use of a façade scheme that fits comfortably with its neighbors."

Granting the variance will not be detrimental to the urban landscape on 10th Street. The proposed building design is well-scaled to the street and neighborhood, and is compatible through the use of materials and forms that respect the scale of the surrounding community of existing buildings."
And as designed, the development's bay windows would be screened with perforated aluminum wings, similar to 8 Octavia or 1234 Howard, and framed by perforated aluminum panel rain screens.