Single-family home values within the San Francisco MSA slipped 0.9 percent from December to January and condominium values slipped for the second month in a row (down another 0.4 percent), according to the latest S&P Case-Shiller Home Price Index.
While San Francisco home values dipped across all tiers of the market, with values for the top tier dropping the most, the aggregate index remains 7.9 percent higher on a year-over-year basis and has gained 68 percent since early 2009, but remains 9.6 percent below its 2006 peak.
The index for the bottom third of the market slipped 0.5 percent in January but remains 11.5 percent higher than at the same time last year; the index for middle third of the market slipped 0.6 percent in January (up 9.1 percent year-over-year); and the index for the top third of the market dropped 1.5 percent, it's largest one-month dip since January 2012, but remains 6.8 percent higher year-over-year.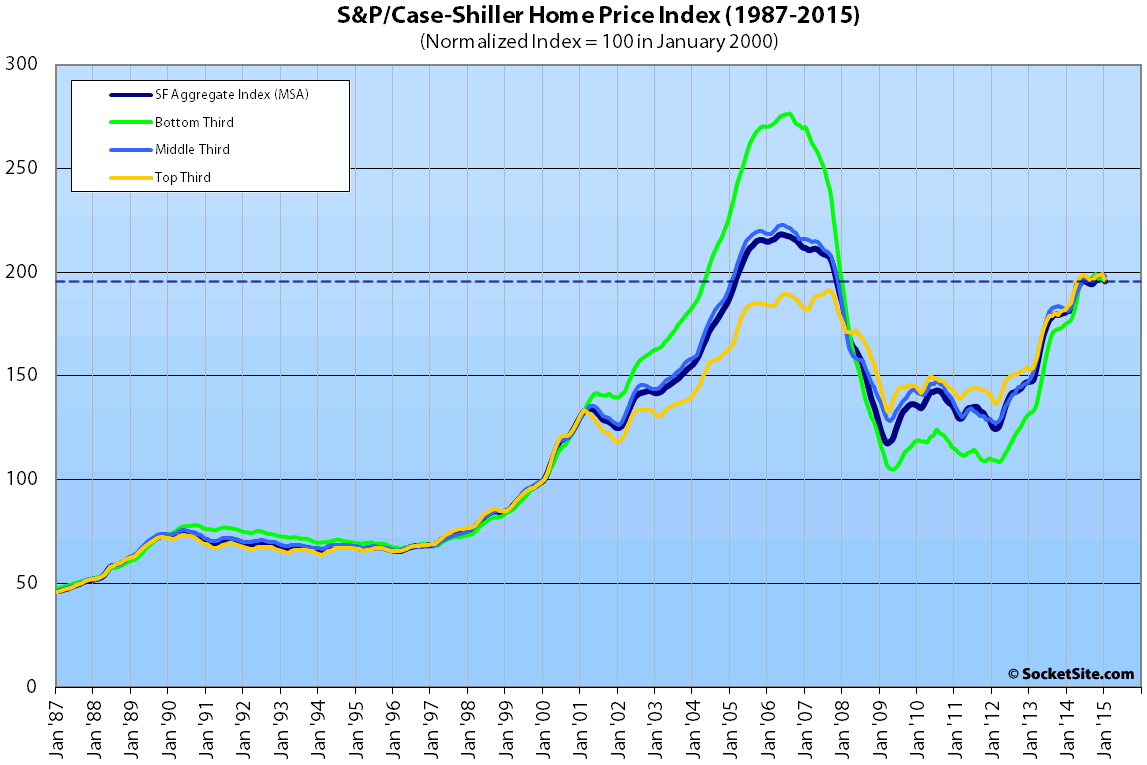 According to the index, single-family home values for the bottom third of the market in the San Francisco MSA are back to just below May 2004 levels (29 percent below an August 2006 peak); the middle third is back to February 2005 levels (11 percent below a May 2006 peak); and values for the top third of the market are 2.5 percent above their August 2007 peak, down 1.5 percent from December's all-time high.
Condo values in San Francisco slipped 0.4 percent in January but remain 10.7 percent higher on a year-over-year basis and 5.1 percent higher than at the previous cycle peak reached in October of 2005, down 0.7 percent from an all-time high this past November.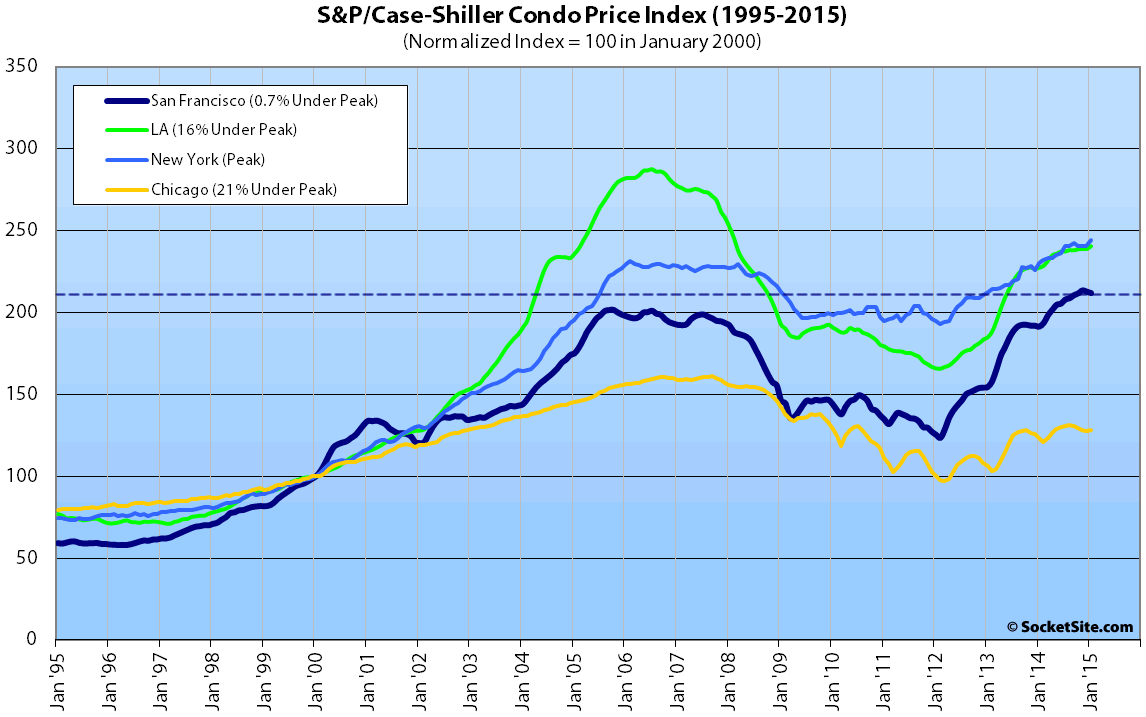 For the broader 10-City U.S. composite index, home values were unchanged in January. And while the composite index is running 4.3 percent higher on a year-over-year basis, it remains 17.0 percent below its June 2006 peak.
From the Managing Director and Chairman of the Index Committee at S&P Dow Jones Indices, David M. Blitzer:
"Despite price gains, the housing market faces some difficulties. Home prices are rising roughly twice as fast as wages, putting pressure on potential homebuyers and heightening the risk that any uptick in interest rates could be a major setback. Moreover, the new home sector is weak; residential construction is still below its pre-crisis peak. Any time before 2008 that housing starts were as low as the current rate of one million, the economy was in a recession."
Our standard SocketSite S&P/Case-Shiller footnote: The S&P/Case-Shiller home price indices include San Francisco, San Mateo, Marin, Contra Costa, and Alameda in the "San Francisco" index (i.e., greater MSA) and are imperfect in factoring out changes in property values due to improvements versus appreciation (although they try their best).